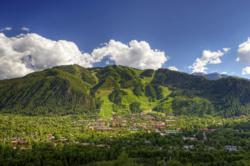 Aspen, CO (PRWEB) May 11, 2012
Aspen swells with talent during spring, summer and fall as world-class athletes move to town to train on local trails and rivers, and cultural organizations call in the big shots for art exhibitions, lecture series, special events, festivals and more.
The following are some of the highlights of Aspen's summer 2012 events calendar:
Aspen Cycling Festival, May 19 – 20, 2012 The Aspen Cycling Festival kicks off with the 10-mile, 2,500-foot elevation gain charity bike race, the Ride for the Pass. On Sunday, The Aspen Cycling Criterium brings fast-paced energy to downtown Aspen when cyclists speed around the .9-mile track loaded with treacherous curves to compete for an $8,000 prize.
aspencyclingfestival.com
Outside in Aspen™, June 8 – 10, 2012 Outside in Aspen™ returns to its classic mountain setting for the third year this June. Led by renowned professional athletes, Outside in Aspen is a participatory weekend, inviting outdoor enthusiasts of all levels to hone skills or learn a new sport among like-minded individuals against a stunning Aspen backdrop.
FOOD & WINE Classic in Aspen, June 15 – 17, 2012 Celebrating its 30th anniversary in 2012, the FOOD & WINE Classic in Aspen further cements its reputation as the nation's premier culinary festival with a line-up of NEW events – including a 5K run, Elvis Costello dinner concert, and the greatest number of chefs and winemakers ever gathered in Aspen, include celebrity chefs Mario Batali, Bobby Flay and many more.
http://www.foodandwine.com/classic.
Aspen Writers' Foundation Summer Words, June 17 – 22, 2012 The Aspen Writers' Foundation offers author readings, workshops, writer retreats, and much more. Its programs are cornerstoned by the 36th annual Aspen Summer Words, a celebration of words and ideas featuring an intensive writing retreat held in the mornings and a stimulating literary festival in the afternoons and evenings.
aspenwritersfoundation.org
Anderson Ranch's Featured Artist Lecture Series, June 21 – Aug. 23, 2012 Anderson Ranch goes white hot on Thursdays this summer with presentations by internationally known artists including Sanford Biggers (June 21), Enrique Martínez Celeya (July 5), Barry X Ball (July 12), Kara Walker (July 19) and Rashid Johnson (Aug. 2).
andersonranch.org
Theatre Aspen's Summer Season, June – August, 2012 Aspen's only professional theatre presents musicals, comedies and plays with Broadway actors and local talent from June through August in the beautiful new Hurst Theatre in Rio Grande Park. They open the season with Tony Award-winning "Avenue Q."
theatreaspen.org
Aspen Ideas Festival, June 27 – July 3, 2012 Now in its eighth year, the Aspen Ideas Festival focuses on "ideas that matter" and offers a spectacular array of lectures, presentations, debates, and panel discussions by leading thinkers who span a vast range of critical topics, from the economy to the environment and science to the arts.
aifestival.org
Aspen Music Festival and School, June 28 – Aug. 19, 2012 AMFS presents its 63rd season in 2012 with 320 public events (many of them FREE) including concerts, masters classes, rehearsals, lectures and discussions. The long list of artists who have graced the stages in previous years includes Edgar Meyer, James Conlon, Julia Fischer, Joshua Bell, Hilary Hahn, Leonidas Kavakos and many more luminaries.
http://www.aspenmusicfestival.com
Aspen Santa Fe Ballet's Summer Dance Series, July 15 – Aug. 31, 2012 In addition to their own brand of fluid contemporary dance, Aspen Santa Fe Ballet brings high-quality dance to Aspen throughout the year. Through its presentation series, ASFB hosts such critically acclaimed dance companies as Alonzo King LINES Ballet, Hubbard Street Dance Chicago, Joffrey Ballet, Paul Taylor Dance Company, MOMIX and Pilobolus.
aspensantafeballet.com
Aspen Art Museum's artCRUSH, Aug. 3, 2012 Prominent artists, curators, celebrities and philanthropists from around the world gather to celebrate ArtCrush, the Aspen Art Museum's annual summer benefit, featuring a remarkable wine tasting and auction, seated dinner for 350 guests, and both a live and silent auction of major works of contemporary art.
http://www.aspenartmuseum.org
USA Pro Cycling Challenge, Aug. 22 - 23, 2012 Aspen hosts TWO of the seven stages of the second annual 2012 USA Pro Cycling Challenge, including a finish on Aug. 22 and a start on Aug. 23. The brainchild of part-time Aspenite Lance Armstrong, the UPCC has the highest registration level next to the Tour de France, runs from Aug. 20 - 26, 2012, and covers nearly 600 miles of Colorado's most demanding terrain. http://www.aspenupcc.com. The Aspen/Snowmass Women's Pro Challenge (Aug. 20-24) coincides with the men's race, and boasts major upgrades in 2012, including doubling the number of participants from last year, and offering a $25,000 prize purse.
aspenwomensprorace.com
40th Annual Motherlode Volleyball Classic, Aug. 30 – Sept. 3, 2012 Celebrating a landmark anniversary in 2012, The Motherlode is the largest doubles volleyball tournament in the U.S. and brings more than 550 teams to compete on outdoor grass and sand courts.
motherlodevolleyball.com
Jazz Aspen Snowmass Labor Day Festival, Aug. 31 – Sept. 2, 2012 The JAS Labor Day Festival is JAS' largest event with crowds in excess of 10,000 a day. This year's line-up includes Kid Rock, Sugarland, The Steve Miller Band, Trombone Shorty & Orleans Avenue and more.
http://www.jazzaspensnowmass.org
For media information and images, visit aspenchamber.org/media and contact Promo Communications at 970.925.8480
For visitor information, visit aspenchamber.org, or call 1.888.290.1324 or 970.925.1940.
Connect with Aspen on Facebook and Twitter.