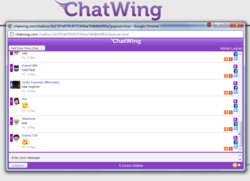 New York, NY (PRWEB) May 11, 2012
Lead generation is one of the most sought-out activities in the Internet, based on the numbers of websites created for it. Since there are lots of network marketers out there, lead generation has turned out to be a necessity rather than a perk. Chatwing's development team has realized this niche and decided to tap it by launching a versatile chat box capable of providing efficient communication. The development team recently launched the application under a freemium business model.
Chatwing's main goal is to improve the way people experience global chatting. Over the first few months of its early release, Chatwing is very keen to this goal. Chatwing's developers are working round the clock to ensure that the shout box is delivering maximum potential for its users. Every now and then, Chatwing admins also visit chat boxes to spark conversations that can increase the visibility of a blog. Since Chatwing deals with people, lead generation is entirely covered. The application can be used as a buffer whenever visitors raise questions about a product or service. It is a blogger's medium of communicating with his visitors.
Once installed in a blog or website, Chatwing's potential is thoroughly maximized. If the blog is all about the product or service, the free chat box serves as an extension of customer service. Moreover, Chatwing allows its users to log in using their Facebook accounts. In this way, the users can expand their social circles with ease. As a bonus, people can also select from a wide array of emoticons and avatar displays. This feature improves the way people communicate through website chat.
The Chatwing website chat tool can also be installed easily. First, the user must register his blog's domain name. After that, he can now move on to the customization phase. He can modify the height, width, color, and title of the widget. After finishing this, Chatwing will now generate the HTML code and the user can retrieve it. Embedding takes only a few seconds.
About Chatwing.com
Chatwing.com has developed live chat software for websites and blogs. It caters to different online communities due to its high rate of connectivity. Users have the ability to customize the size, color, and fonts of the free shout box. The ability to chat via social media accounts such as Facebook and Twitter enable Chatwing to offer a personal and unique real-time experience to all sites. Chatwing is 100% free and very easy to use.