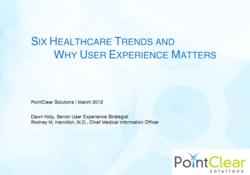 Nashville, TN (PRWEB) May 10, 2012
PointClear Solutions, Inc. announces the publication of a new User Experience (UX) White Paper titled, 'Six Healthcare Trends and Why User Experience Matters'. The White Paper focuses on six high interest healthcare trends and why user experience research and design best practices make a major difference in the successful adoption of physician, clinician and patient oriented software. Key trends analyzed include EMR adoption, mobile health going mainstream and increased "Care at Home" solutions.
Software development in the healthcare and technology sectors continues to thrive. However, user engagement lags behind in many areas and can be attributed to the lack of attention paid to the needs of the end users. The paper illustrates why it is important to have a user-centered approach to technology development versus traditional development methodologies. The information can be strategic in helping healthcare organizations achieve high user adoption while benefiting the healthcare industry as a whole.
PointClear is also pleased to announce a Free Webinar including the white paper authors; Dawn Nidy, Senior UX Strategies, Dr. Rodney Hamilton, Chief Medical Information Officer and Chief Experience Officer, Lee Farabaugh. This webinar will include their candid views on these topics and more. With over 30 years of combined healthcare UX and solution strategy experience, these industry experts will provide the webinar participants with unique insights to support greater success in future HIT solution planning.
Download the UX White Paper: Click Here
Register for UX Webinar – May 24th 12 p.m. ET/11 a.m. CT: Click here
About PointClear Solutions
PointClear's focus is on transforming healthcare delivery through technology innovation that improves user experience. Our competencies lie at the intersection of product strategy, technology and user experience. Our user-centered approach to software development assures that our solutions are accessible, relevant and actionable - driving user adoption, promoting human-centered delivery of professional healthcare, and ultimately creating business value for our clients. We serve provider, payer, pharmaceutical, public health organizations and the technology market that supports them.