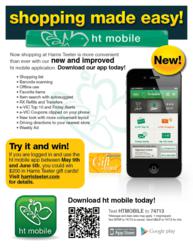 Charlotte, N.C. (PRWEB) May 09, 2012
Harris Teeter today released an update to ht mobile, significantly changing its mobile application, both improving existing functions and introducing new features to make it easier for shoppers to use their Smartphone to organize their grocery shopping.
Harris Teeter launched its first version of ht mobile April 2011, and it included a collection of tools to allow customers to shop using their Smartphone. ht mobile gave users the option to create shopping lists on their mobile device, view personalized e-VIC offers, browse the company's weekly ad and find Harris Teeter stores. With the latest version released today, Harris Teeter built upon its existing ht mobile platform and enhanced features like the shopping list but also introduced new features to make the application more user-friendly and accessible for shoppers.
The newest version of ht mobile shows vast improvement to not only the visual aspects of the application but the technology behind it as well:

Updated shopping list, offering access to personalized e-VIC specials and Favorites, the ability to save e-VIC coupons, bar code scanning technology and auto complete search capabilities,
Enhanced store locator, adding GPS technology and driving directions
Ability to view your list offline
Seamless integration with your desktop shopping list
Text message notification and ability to pre-order subs and sliced meats & cheeses, in select stores
Ability to refill or transfer prescriptions using a Harris Teeter pharmacy
The company is also committed to the evolution of ht mobile and will continue to add new features including a recipe function that allows shoppers to choose a specific recipe through ht mobile that will then automatically populate the shopping list when instructed.
To learn more about navigating ht mobile, please watch an informational video about the application and the features available by visiting harristeeter.com.
If you do not have ht mobile, please help us achieve 100,000 downloads by downloading it for free from either the iPhone App Store or Android's Google Play Market. Also, if you are logged in and use the ht mobile app between May 9th and June 5th, you could win $200 in Harris Teeter gift cards. For more information, visit harristeeter.com.