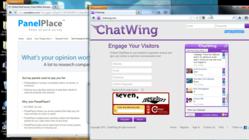 Chicago, IL (PRWEB) May 12, 2012
Online survey are as common as free blogs and websites nowadays. These surveys are important parts of marketing campaigns useful for specific companies. Chatwing's developers have lately realized that the niche of online survey making is strong. To help this niche prosper, they have started launching a well-rounded chat box meant for improved communication.
Chatwing is created for the sole premise of website chat. It is designed to be installed in blogs and can be used to communicate with lots of people from different parts of the world. Adding to that, Chatwing is also built to help people gather many Facebook friends. That is why some people, especially the early users of the free chat box, believe that it can be a professional solution for everyone.
Chatwing is useful for survey makers in the sense that it can be used to find people all over the world. In fact, Chatwing's developers are working day and night to ensure that the widget can deliver efficient communication speed. "Accessibility is also another important bonus for everyone. Now, users can log in with their Facebook or even Twitter accounts. This is good, especially for people who are dealing with online surveys. They can just send out links to the surveys or recommend a product or service," Says Ivan Diamond, one of Chatwing's developers and determined researchers.
Chatwing is also an effective time-saver application when it comes to communication. With this shout box, people don't need to download anything at all. Plus, anyone can begin chatting right away. Since Chatwing operates on a highly-stable platform, anyone can enjoy chatting for a long time. Bloggers can also rely on Chatwing when it comes to generating activity for their blogs. It has been noted that Chatwing is compatible to famous blogs such as Wordpress, Blogspot, Posterous, and many more.
About Chatwing.com
Chatwing.com has developed live chat software for websites and blogs. It is useful to different online communities due to its high rate of connection. Everyone can create a customizable live free shout box in one minute or less. Users also have the opportunity to customize the size, color, and fonts of the chat product. The ability to chat via social media accounts such as Facebook and Twitter enable Chatwing to offer a personal and unique real-time experience to all sites. Chatwing is 100% free and has a very simple chat mechanism.