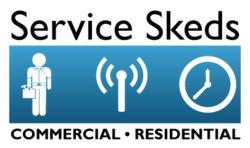 With all of the added benefits of smartphone technology and cloud based field management dispatch, how many more work orders could your technicians service per week?
(PRWEB) May 10, 2012
Service Skeds, the technology leader in Field Service Management software, has announced the availability of a new tool to help Field Service companies properly evaluate the benefits of equipping technicians with mobile technology, such as smartphones and tablets. Service Skeds is a dispatch software that integrates with mobile technology to provide cloud based Android, iPhone, and tablet apps that share real-time information with users logged in to the website.
According to the report "Field Service in 2012", by the Aberdeen Group , Best-In-Class organizations' primary goal in 2012 is to equip their technicians with the right tools to maximize productivity in the field. 63% of these Best-in-Class companies said that the first priority in 2012 was investing in mobile tools to provide technicians real-time information in the field, and report real-time information back to the office.
The basic question that the Return On Investment tool tries to answer is, "With all of the added benefits of smartphone technology and cloud based field management dispatch, how many more work orders could your technicians service per week? " Knowing that number, and the basic accounting details of your business, Service Skeds is able to provide a ROI calculation that shows you how you can increase your net profits by taking advantage of online field service management software.
This new tool, available at http://www.serviceskeds.com/return, will give Field Service managers and owners the ability to calculate the benefits of investing in smartphone technology within their Field Service company. The tool is incredibly simple to use: all you need to know to get started is how many techs you currently have in the field, how many jobs per week they are currently able to handle, and your current costs and margins. Taking this information, Service Skeds asks you to answer some questions about how many hours per week could be saved using the mobile technology benefits, and thus, how many extra jobs per week that technician is able to perform.
Example questions from the ROI calculator are:
1. How many hours will it save your technicians each week to be dispatched from the field, with no need to grab paper work orders (or changes to work orders) from the office?
2. How many more hours can your techs be in the field each week if you have maps showing where your appointments are and where your techs are?
3. How many hours are saved each week if your tech can invoice and collect payment in the field and that data is pushed to your accounting system?
Additionally, the tool asks how many hours each week are saved if you take advantage of these additional benefits of mobile technology :

Viewing customer history in the field
Making notes, voice to text, in the field
Taking photos to record events, in the field
If you would like to find out more about the Service Skeds ROI calculator, or would like to further discuss ways that cloud based mobility solutions can improve your field service company's bottom line, then please contact us, or call 657-444-SKED, or email paul(at)skeds(dot)com. To schedule a demonstration of how Service Skeds can make your company more efficient, schedule a demo.
About Service Skeds: Service Skeds is a field service management software designed to make HVAC and other service companies more efficient and profitable using cutting edge technology and innovation. The Service Skeds online software allows the dispatcher to keep detailed information on all of their customers, technicians and their equipment, so the status is of every job is evident on one screen. Service Skeds is also made to work seamlessly with smartphones, both iPhone and Android and their tablet counterparts. Service Skeds was founded in 2008 in Fort Worth, Texas and enjoys management with over 20 years in the service and dispatch industries.