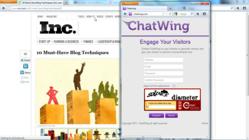 Houston, TX (PRWEB) May 13, 2012
Blogging techniques are now scattered all over the Internet, based on user statistics and the high demand for the creation of blogs. In fact, these blogging techniques have helped a lot of amateur bloggers understand their craft easily. Lately, blogging techniques are becoming common discussions in Chatwing's website chat box. This has been noted by Chatwing's development and research team.
When it comes to blogging, Chatwing can definitely lead the pack. This has been proven by the hundreds of sign-ups generated during the chat box's early release. When Chatwing's second version became available, the numbers doubled. People have started seeing the potential of Chatwing when it comes to global communication. "This is the revolution of chatrooms. Chatwing appears simple for everyone, but it is really unique. That purple theme is always relaxing. I tried different colors for my blog, but the purple one really attracts visitors. Message response is good, and my visitors can stay connected for such a long time," Says one of the bloggers who used the second version of Chatwing.
Chatwing's free chat box excels in connecting people under certain topics. Since there are hundreds and thousands of topics that can be talked about in Chatwing, anyone can really have a unique chatting experience. Chatwing's research team has noted that the chat tool has been used in different online communities such as dating, friendship sites, hobby sites, humor, Anime, movies, and many more. This simply proves that Chatwing is versatile and adaptable to any online community. Travel bloggers have also benefited a lot from Chatwing because they now have a direct communication with their visitors.
To ensure that Chatwing's speed and connectivity is maintained, the Chatwing development team works round the clock. Each developer has an eagle eye when it comes to spotting minimal problems within the shout box. Local admins can also filter messages and block indecent users to ensure that everyone can have an enjoyable chat time.
About Chatwing.com
Chatwing.com has developed live chat software for websites and blogs. It caters to different online communities due to its high rate of connectivity. Everyone can create a customizable live chat feature in 1 minute or less. Users have the ability to customize the size, color, and fonts of the chat box. The ability to chat via social media accounts such as Facebook and Twitter enable Chatwing to offer a personal and unique real-time experience to all sites. Chatwing is 100% free and very easy to use.