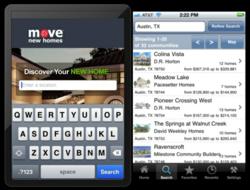 Today, whether buyers are on the road or just away from the computer, the new Move New Homes application puts it all in the palm of their hand.
Austin, TX (PRWEB) May 10, 2012
Builders Digital Experience, leading provider of digital marketing resources for builders, announced today the release of the Move New Homes mobile search application for iPhone, iPad or iPod Touch. The free mobile search application is now available in the iTunes app store and allows consumers to search thousands of new homes from hundreds of leading homebuilders.
"When a buyer wants to find information about new homes they are more likely than ever to turn to their smartphone," said Tim Costello, CEO of BDX. "Today, whether they are on the road or just away from the computer, the new Move New Homes application puts it all in the palm of their hand: new home photos, descriptions, maps, videos, interactive tours and more."
Move New Homes has a long history of connecting buyers with homebuilders and the company's website is a leading destination for online new home search. This application brings these new homes, new home builders, and new home communities all directly to consumers on their mobile device.
The Move New Home mobile App allows users to pinpoint new homes and communities in the area of their choice. Consumers can find homes through the application's intuitive search features or use the interactive map. Users can also refine results by price and number of bedrooms, save favorites, and get builder contact information and driving directions quickly and easily.
Additional features of the Move New Homes mobile application allow users to:

Search using text or an interactive map
View new home plans and quick move-in inventory homes
View exterior, interior home images and floor plans
Map community location and find driving route via Google maps
Save your favorite homes and communities and display all on a single map
Tap-to-call or email a sales agent
Consumers can download the application for free from the iTunes app store or visit the Move New Homes website to search for new homes online.
Builders who are interested in listing their new homes on the Move New Homes website and iPhone application can visit http://www.thebdx.com for additional details.
About Builders Digital Experience
Builder's Digital Experience, LLC (BDX) from Builder Homesite, Inc. and Move, Inc. (NASDAQ:MOVE) was founded in October 2009 to combine the industry's leading new home resources under one roof and offer builders innovative online marketing options, streamlined customer service and support, and greater value. Capitalizing on over 11 years of building industry experience, BDX includes the top two new home websites, NewHomeSource from Builder Homesite and Move New Homes. Additional services include video production, rich media rendering, mobile search, custom website production, connections to real estate professionals, and more. Together these online and interactive resources help builders create a true digital experience for their buyers. For more information, visit http://www.thebdx.com.
This press release may contain forward-looking statements, including information about management's view of Move's future expectations, plans and prospects, within the safe harbor provisions under The Private Securities Litigation Reform Act of 1995. These statements involve known and unknown risks, uncertainties and other factors which may cause the results of Move, its subsidiaries, divisions and concepts to be materially different than those expressed or implied in such statements. These risk factors and others are included from time to time in documents Move files with the Securities and Exchange Commission, including but not limited to, its Form 10-Ks, Form 10-Qs and Form 8-Ks. Other unknown or unpredictable factors also could have material adverse effects on Move's future results. The forward-looking statements included in this press release are made only as of the date hereof. Move cannot guarantee future results, levels of activity, performance or achievements. Accordingly, you should not place undue reliance on these forward-looking statements. Finally, Move expressly disclaims any intent or obligation to update any forward-looking statements to reflect subsequent events or circumstances.