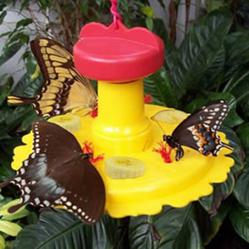 Concord, NH (PRWEB) May 10, 2012
Along with the largest selection of wild bird feeding products, Duncraft also has a selection devoted to butterflies, ladybugs and mason bees. Here are Duncraft's five suggestions on how customers can have the most success attracting butterflies.
Often after a rain, butterflies will be seen at a muddy patch on the lawn or walkway drinking the water. This is called puddling and butterflies do it to get nutrients and salts from the earth that aren't supplied by flower nectar. Customers can create their own puddles for butterflies by simply taking a shallow dish, adding sand and then water until the sand is wet. The larger the dish, the more likely that butterflies will notice it. Then, a little compost can be added and also some salt, to which male butterflies are especially attracted. Keep the sand wet and put the dish in a sunny place where butterflies can be enjoyed when they gather.
Duncraft suggests that butterflies will often land on a butterfly feeder filled with nectar. Duncraft offers instant butterfly nectar that mimics nectar in flowers and also butterfly nectar feeders. The home recipe for nectar for butterflies is the same as for hummingbirds--one part white table sugar dissolved in four parts water. Duncraft's S7820 Butterfly Feeder has been designed and tested by a butterfly breeder and has a patented combination of wicks and tubes that mimic real flower blossoms.
Another way to attract and feed butterflies is with fruit. Butterflies seem to like the juices of slightly fermented watermelon and bananas. Most butterfly feeders have a few spikes where pieces of fruit can be skewered or sometimes a piece of watermelon rind placed on a garden rock will attract them.
An easy way to attract and keep butterflies in the yard is to allow wildflowers to bloom. Not cutting the grass near a fence or along the perimeter of the yard will help wildflowers like black-eyed Susans, common milkweed, wild asters and other wildflowers to flourish, all of which attract butterflies. Flowers that specifically attract butterflies can also be planted, such as zinnias, yarrow, phlox, thistle, lilacs and many more. Many wildflowers also provide food for the caterpillars of butterflies which include violets, plantains, sorrels, and clovers.
Finally, many people like to have a butterfly "house" or hibernation box in their garden. But do butterflies really use these decorative abodes? There is some argument about that. Some experts claim that the kind of butterfly that would use one of these houses wouldn't be the flower garden varieties, but rather, woodland butterflies that overwinter in protective cavities. However, it is possible that butterflies might take temporary shelter in a butterfly house during rainy and windy weather. In any case, butterfly houses look wonderful in a garden—and Duncraft has a nice selection!
Founded in 1952 and located in Concord, New Hampshire, Duncraft's objective is to bring the joy of backyard birding to wild bird lovers all across the country. Mike Dunn, owner and CEO is constantly inventing and searching for innovative ideas in bird feeding—giving bird lovers years of bird feeding enjoyment, success and satisfaction.
Duncraft
102 Fisherville Road
Concord, NH 03303
603-224-0200