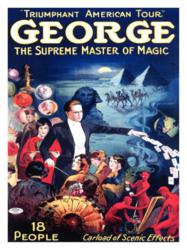 Los Angeles, CA (PRWEB) May 09, 2012
This year's Legends of La Cienega theme, "Windows of the World", is distinctly captured by the window at OTW (Off the Wall Antiques) designed by world traveler and award-winning eco designer Rachel Winokur, a newcomer to the Legends windows. "I love the elegance, warmth and charm of the vintage and antique items in my window, plus the magic of some unexpected elements," states Winokur. Shown here is a 9' tall poster, the backdrop to Winokur's window, titled "The Magic of Travel."
About Rachel Winokur:
With 10 years of interior design experience and a focus on sustainability, Rachel runs LA-based design firm Etta Designs. She has appeared on HGTV's Design Wars and DIY's House Crashers, has been featured in the Fall 2011 Angeleno Interiors magazine and was quoted in the March 2012 issue of House Beautiful. Also, Rachel will be a panelist discussing Green Materials at AltBuild in Santa Monica this Saturday, May 12th.
About Legends of La Cienega:
The 4th Annual Legends of La Cienega of 2012 happens this Wednesday through Friday, May 9th-11th, in the La Cienega Design Quarter of Los Angeles. Legends is slated to be even bigger and better than prior years when it attracted 10,000 designers and enthusiasts. For 2012, Legends extends its reach beyond Los Angeles by inviting the most highly regarded interior designers from across the country and around the globe to decorate the legendary windows. Legends takes place in a special region made up of more than 50 highly respected design showroom and galleries, making it one of the nation's premier shopping districts for design. In addition to the famed window vignettes, design aficionados can enjoy an array of programming like keynote panel discussions moderated by the nation's leading magazine editors, book signings, receptions, demos, special exhibits, trunk shows and more. In addition, Legends media partners include the nation's most prestigious shelter publications, including Elle Décor, House Beautiful, Traditional Home and VERANDA and regional media partners California Homes, California Home & Design and Luxe Interiors + Design.