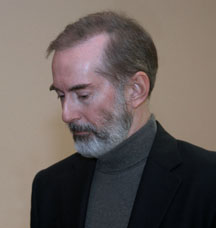 Charlotte, NC (PRWEB) May 11, 2012
IO Twomey announced today Joseph Orbi's novel Cenacolo, a story of intrigue, suspense, betrayal, murder and forbidden love during one of the most exciting, violent and politically tumultuous periods in history.
Cenacolo is Joseph Orbi's fourth book in five years and its announcement follows that of Cosa Nostra, a comic novel about the relationship of a colorful operatic Maestro and his cousin, a powerful mafia don, published last year in English and Spanish.
According to the author, Cenacolo is based on meticulous historical research and is perhaps Leonardo da Vinci's most candid portrayal. "Leonardo was vastly different to the character described in biographies and history books and a lot written about him is inaccurate, naive and even designed to misinform," said the author.
For Cenacolo, Joseph Orbi focused on Leonardo's writings and his descriptions of daily life because it is there where "one meets the real Leonardo da Vinci," a man who never overcame that he was illegitimate or that he lacked a formal education. "It shaped da Vinci's personality," adds Joseph Orbi. "He clearly suffered from low self-confidence that compelled him to assume airs of superiority with his peers, and at court. The reason perhaps why a man whose very name is synonymous with inspired brilliance felt a need to copy and plagiarize works by others."
Also, central to Joseph Orbi's Cenacolo, is Giacomo Caprotti, nicknamed Salai. The boy was ten years old when da Vinci took him in. "To fully appreciate what kind of person was Leonardo da Vinci, it is crucial to understand his relationship with Salai. In fact, Leonardo wrote of his young protégée more than once, observations and commentaries that are as revealing of Leonardo da Vinci as they are about Salai."
Cenacolo by Joseph Orbi is available at bookstores everywhere, and online on both, regular and e-book formats.