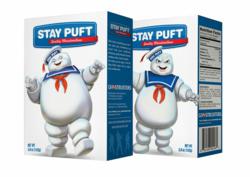 Featuring the happy and the angry Mr. Stay Puft!
San Francisco CA (PRWEB) May 15, 2012
Fans of Ghostbusters with a sweet tooth will be able to munch away at the premium puffed bite-size vanilla marshmallows. They come vacuum-packed inside a new collectible 2-sided box that features the happy Stay Puft Marshmallow Man one on side and the angry Stay Puft Marshmallow Man on the other.
"This is an imaginary brand turned into a real brand on real store shelves," says Parallax President David Garth. "And it's in a real Stay Puft Marshmallows box, but with the evil Destructor Mr. Stay Puft on the back."
In Ghostbusters, University parapsychologists Dr. Peter Venkman (Bill Murray), Dr. Raymond Stanz (Dan Aykroyd) and Dr. Egon Spengler (Harold Ramis) lose a research grant when their experiment methodology is proven to be bogus. The team decides to go into business for themselves and open 'Ghostbusters,' a ghost removal service. After struggling to get on their feet, they are summoned to investigate the strange happenings in Dana Barrett's (Sigourney Weaver) Central Park West apartment. What they discover is that all Manhattan is being besieged by ghosts and other worldly demons through a portal in her building.
The Parallax Corporation is based in San Francisco and partners with entertainment companies to bring imaginary products to life.
The Parallax Corporation works with a select group of privately-owned specialized manufacturing facilities to produce unique high quality items with collectible packaging and product designs and bring them to production and commercial distribution. Its products are sold through multiple retail and wholesale channels.
Other Parallax Corporation licensed products include Soylent Green crackers. Sister company FMCG Manufacturing Co. (of which Garth is a founder) also produces the Tru Blood beverage for HBO.
To learn more about Stay Puft Marshmallows or The Parallax Corporation, go to http://www.staypuftmarshmallows.com or http://www.parallax-corp.com. For additional information or to schedule an interview with David Garth, please email info@parallax-corp.com.