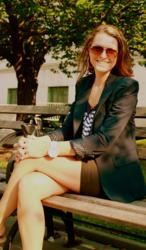 I am so excited to have the opportunity to share BizPAD with businesses world-wide.
San Diego, CA (PRWEB) May 10, 2012
Today, CEO Greg Writer of BizPAD announced Emily Rehm, a 22-year-old entrepreneur from San Diego, California, President of the project management system. She has worked closely with marketing expert Greg Writer, CEO of BizPAD for almost a year on the project and is excited to bring her expertise to the executive level. Rehm's background in video marketing is expected to add tremendous value to their marketing efforts, as video becomes the standard for online marketing.
"I am so excited to have the opportunity to share BizPAD with businesses world-wide. When I realized that some of our competitors have over 7 million users, I knew I wanted to get involved. This is an amazing opportunity for me at this point in my life, and I can't wait to share this awesome tool that will dramatically increase your productivity and give you a platform to keep the never-ending to-do list manageable," said Emily.
Having graduated in 2011, Rehm has separated herself from fellow grads by moving into this position relatively quickly post graduation. Her former work experience at a popular smoothie chain did little to prepare her for this transition. However, her background in Mass Media from California State University, San Marcos, has afforded her the opportunity to continue her passion of video production and marketing.
Writer and his team are working together to market the immense benefits of this web-based project management software as well as, educate current customers on the many ways to use BizPAD to make their business more efficient.
Rehm is currently developing online tutorials providing BizPAD users with tools and resources to better utilize the project management software.
About BizPAD -- BizPAD is the ultimate web-based task, project and business management tool to collaborate- keeping you organized like never before. BizPAD maximizes your productivity, systemizes your business, increases your business value, and streamlines communication with your team. BizPAD eradicates the use of mundane systems, processes and tools to bring everything into one screen. Whether your team is in the same office or halfway around the world; everything gets done, is tracked and managed with ease. Find out how this simple solution can become such a huge asset by visiting: http://www.BizPAD.com