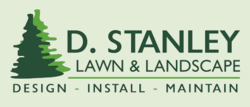 Lockport, NY (PRWEB) May 10, 2012
The manicured landscapes of Lockport telegraph the work of D. Stanley Lawn and Landscape, a full-service landscaping company formed in 2002. After the firm put its staff through the rigors of becoming New York State certified nursery and landscape professionals, the wealth of industry knowledge they gained incited them to share their higher standard of qualifications with the public. From proprietor Derek Stanley's perspective, once lawn owners understand how nursery and landscape certification yields more intelligent lawn solutions, D. Stanley Lawn and Landscape will outshine uncertified competitors.
The Certified Nursery & Landscape Professional Program (CNLP), created with the assistance of Cornell University and administered by the New York State Nursery & Landscape Association, Inc., challenges garden and landscape employees with a rigorous, on-going course designed to enhance their industry skills. CNLP's increase their prowess on subjects such as plant pest and disease solutions, weed control, soils, and pruning techniques. After graduation, CNLP's must refresh their training regularly to stay certified and current on landscaping techniques and trends.
The entrance requirements for the program automatically weed out novices from applying for certification. Applicants must have completed a two- or four-year horticultural degree plan from an accredited college. In lieu of that, non-degreed students can complete the course if they prove at least three years of horticultural industry experience. To graduate, candidates must pass a formidable written examination compounding the entire course's material.
The main purpose of certifying a nursery and landscape professional is to give clients access to industry backed advice that stays current with landscaping protocol. Lawn owners with difficult maintenance issues can consult certified professionals who treat lawn problems with the respect that comes from extensive training. D. Stanley Lawn and Landscape's graduates are on-site to approach lawn maintenance issues with intelligent solutions.
About the company:
D. Stanley Lawn and Landscape is a full service landscaping company located in Lockport, NY. They provide residences and businesses with a wide range of landscaping services. D. Stanley Lawn and Landscape was formed in 2002, and since then they have strived to provide outstanding service to all of their customers. Providing their customers with quality workmanship in a timely fashion has been their priority since day one. They are dedicated to 100% customer satisfaction. On a regular weekly basis, they service the following areas: Lockport, Gasport, Middleport, Medina, Amherst, Clarence, Williamsville and Grand Island. For more information visit their website at http://www.stanleylawn.com.