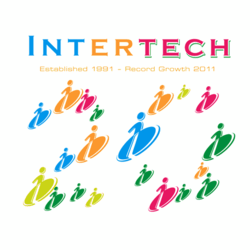 Our 20 year anniversary wouldn't be possible without our customers or employees. I thank them both.
Saint Paul, MN (PRWEB) May 10, 2012
Intertech (http://www.Intertech.com) is celebrating its 20 year anniversary, record 2011, and new building with an Open House on May 31, 2012. The Open House will feature presentations on Groovy, WinRT, and leadership. Attendees for the presentation can attend in-person at Intertech or live via webinar. Everyone is welcome to attend the event but registration via Intertech's website is required.
"Our 20 year anniversary wouldn't be possible without our customers or employees. I thank them both," stated Intertech Founder and CEO, Tom Salonek.
The open house starts at 2:00 CST and finishes at 6:00. There will be three presentations during the open house. Session one will be an Intro to Groovy. Session two will be an overview of WinRT, Metro Style Apps, and Windows 8. Session three will be on building a winning business. Additional information on the sessions and presenters can be found in this release.
Session 1: An Introduction to Groovy
Among the many alternate Java Virtual Machine (JVM) programming languages, Groovy is quite popular. It is just over 5 years old, yet eWeek reported in Sept 2011 that it was the fastest growing programming language. In this talk, we'll teach you how to get a Groovy environment setup and give you a quick tour of some its features. Prerequisites for this talk: basic Java.
What You Learn: How to get, setup and use Groovy:

Groovy language basics
Cool Groovy features for Java developers
Why use Groovy over Java or other alternate JVM languages
Warnings associated with using Groovy
Intertech delivers training and consulting on Groovy and related technologies including Java training.
Session 2: An Overview of Windows 8, Metro Styles Apps and WinRT
The Windows 8 OS will present an entirely new UI which is markedly different from that of Windows 7. In this talk, you will be given a tour of the of the Windows 8 UI and come to learn the role of a "Metro Style App".
More importantly, this talk will provide an overview of the new runtime environment (WinRT) and programming model.
Intertech delivers .NET training and .NET consulting.
Session 3: Building a Winning Business
In this presentation, learn:
How to streamline projects with 7 guidelines & one simple way to know if you're on track
Essential communication principals everyone should know and some people forget!
Practical tips to effectively interview prospective employees and team members
7 major roles of an effective leader
The presenters are Jim White, Andrew Troelsen, and Tom Salonek.
Jim White is Director of Training and Instructor with Intertech. He is co-author of 'Java 2 Micro Edition' (Manning) and a frequent speaker and contributor to various journals and on-line magazines including recent articles at devX.com. He has almost twenty years of software development experience including time as a senior technical architect at Target Corporation. He holds a M.S. in Computer Science from the University of Minnesota.
Andrew Troelsen is the lead .NET instructor and .NET courseware author for Intertech, where he has worked for the past thirteen years. His work in the .NET community has resulted in obtaining Microsoft C# MVP status for the past five years. When able, Andrew speaks at various conferences around the country and has authored a number of books on the topics of COM, .NET, C# and the Visual Basic programming language.
Tom Salonek is the founder and CEO of Intertech. In 2005, he was named one of Minnesota's Top Business Leaders under 40. Intertech has been named twice to Inc. 500's list of fastest growing companies, and is also a seven-time winner of the Business Journal's Best Places to Work award. In 2003, he founded the Intertech Foundation to financially assist families with critically ill children. Tom has completed executive education at the Harvard School of Business and the Massachusetts Institute of Technology and is a past instructor at the University of St. Thomas Management Center. He holds a degree in Computer Science from the University of St. Thomas. He is the author of the book, Building a Winning Business: 70 Takeaways for Creating a Strong Company during Good and Bad Economic Times, and has written more than 50 articles on business, leadership and technology.
About Intertech
Founded in 1991, Intertech, Inc. has grown from a one-person shop to the largest combined software developer training company and research-supported consulting firm in Minnesota. Intertech designs and develops software solutions that power Fortune 500 businesses along with teaching these and other organizations including mid-sized companies and state government.
Intertech works with NASA, Wells Fargo, Lockheed Martin, Microsoft, Intel, and other major companies around the United States helping them learn and use technology. Intertech is a Microsoft Gold Partner, a Microsoft Inner Circle member, a seven time winner of the Best Places to Work in Minnesota award, a finalist in the Wall Street Journal's Winning Workplaces award, a multi-year winner of the Inc. 500 and the Inc. 5000 awards for company growth, a winner of the Forbes ASAP growth award, and a winner of the Minnesota Fast 50 growth award. Intertech has been featured in Inc., Forbes, Upsize magazine, the Star Tribune, the Business Journal, the Pioneer Press, the Hudson Star-Observer, Minnesota Business, and Twin Cities Business Monthly.