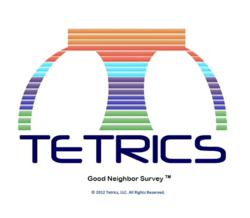 The main drive behind the creation of the Good Neighbor Survey was to develop a means to predict important tenant behaviors.
(PRWEB) May 16, 2012
The new tenant selection tool, the Good Neighbor Survey™, is offering a free trial.
Tetrics understands that the more information you have about an applicant, the more informed a decision you can make during the tenant selection process. Having noticed that there was no effective way to predict tenant behavior, they created the Good Neighbor Survey.
The primary motivation for the creation of the Good Neighbor Survey was to develop a survey to predict behaviors that impact landlords, property managers and the other tenants. The problem faced by most landlords and property managers was that there wasn't an accurate and objective tool to predict how an applicant will treat the unit, the property manager/landlord, and the other tenants.
During the development of this tool, Tetrics found inspiration in employee selection tests. The goal across both situations is similar — to avoid bad applicants. The Tetrics team researched and developed a survey based on personality and personal history, which scores applicants on key behaviors using a proprietary algorithm.
During development of the Good Neighbor Survey, the Tetrics team focused on making sure it was easy to administer across a variety of mediums, including on the web, email, and paper and pencil option. Finally, they made sure that the information provided is easy to interpret, and presented in an intuitive visual report which is available as soon as the test is submitted.
Tetrics is pleased to announce that they are offering a free trial of their test. When asked why, Avi Fleischer responded "Anytime you're offering a new product with the potential to impact the bottom line, it's often best to let potential clients get hands-on experience to see just how it could benefit them". The trial period will last for six months of unlimited use.
Tetrics, LLC is a consulting firm specializing in finding solutions to any problem you may have. Specifically, they focus on providing tools that help select the right people for you. They offer both standard and scalable tests that enable you to increase efficiency in any selection process, from hiring employees to leasing apartments. Tetrics delivers customized products, to better fit your needs and vision.
Contact Information
Avi Fleischer
Website: http://www.tetricsllc.com
Phone: (773) 592-6128
Email: info (at) tetricsllc (dot) com