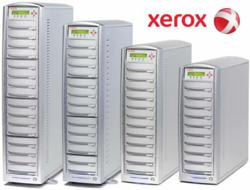 "The lite edition series offers the quality and reliability one would expect from a Xerox Disc Duplicator at a price that acknowledges today's demanding business climate."
Los Angeles, CA (PRWEB) May 15, 2012
For many businesses it's tough to find the "just right" solution to copying CDs or DVDs. Say you need to distribute 50 copies of a sales-training video on DVD to your team once a quarter. Copying the DVDs one-at-a-time is inefficient, but purchasing a duplicator during today's challenging business climate might be a financial stretch.
With this in mind, Xerox (NYSE:XRX) today introduced the Xerox le (lite edition) Disc Duplicator series. Priced nearly 30-percent less than the standard Xerox Disc Duplicator, the "le" series manual tower duplicators range from one to 15 writer drives and provide businesses a quick and inexpensive way to make multiple copies of CDs and DVDs.
The "le" models include the essential duplication elements required to reliably deliver high-quality copies, and they also are simple to operate. The user simply inserts a single master into the top reader drive, and the duplicator copies the content onto the corresponding blank media located in the writer drives below.
"We recognize that some businesses don't require the advanced duplication features that our standard duplicators offer, but they still want an exceptional product," said Vinpower Digital Vice President of Sales and Marketing Ryan Swerdloff. "The lite edition series offers the quality and reliability one would expect from a Xerox Disc Duplicator at a price that acknowledges today's demanding business climate."
Vinpower Digital works with Xerox through an exclusive trademark licensing agreement to develop, market, and support Xerox-branded duplicators. Available now, the new "le" product line is part of Xerox's Digital Duplicator series, which includes standalone manual towers and automated CD, DVD, Blu-ray, and LightScribe capable duplicators as well as USB and SD/MicroSD flash memory.
Customer Contact:
To learn more about Xerox's entire line of duplicator solutions, visit http://www.xeroxduplicator.com.
Media Contact:
Ryan Swerdloff
Vinpower Digital, Inc.
(626) 282-3300 x.120
ryansf(at)vinpowerdigital(dot)com
Note: For more information on Xerox, visit http://www.xerox.com or http://news.xerox.com.