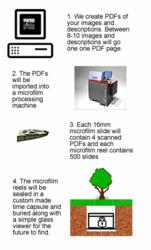 "We don't know if the world is going to end or not, but we've got faith that we'll still be here next year. The project is all about having hope in the future, that's why we're leaving something for them to find."
Glasgow, Scotland (PRWEB) May 11, 2012
With many predictions and theories describing the 'end of the world' on 12/21/12, the For the Future to Find project is giving people the chance to send a message to the future by asking them to upload a picture of what matters most to them and to add a few words explaining why. These words and pictures will be transferred to microfilm, and then buried in a custom made time capsule to be opened 250 years from now.
The project asks people to choose a picture of something that matters to them such as family, loved ones, favourite musician, a piece of art or music, their first car, first home, the list is endless. These pictures and words will tell the future who the people of 2012 really were and what mattered to them.
Founder of the project, Mary Gater commented "We don't know if the world is going to end or not, but we've got faith that we'll still be here next year. The project is all about having hope in the future, that's why we're leaving something for them to find."
The images and descriptions will be used to create PDFs which will be imported into a microfilm processing machine. Each 16mm microfilm slide will contain 4 scanned PDFs and each microfilm reel will contain 500 slides. The microfilm reels will then be sealed in a custom made time capsule along with a simple glass viewer for the future to find in 250 years.
The project will be using social media such as Facebook and Twitter to interact with the people who join the project and will be asking for their input and suggestions on many decisions such as burial site, which charities to support and what will be written on the plaque for the time capsule.
The time capsule will be registered with the International Time Capsule Society in Atlanta to ensure the time capsule is not forgotten about or lost.
The possibility of the world's end is a real worry and concern to many people globally. A recent survey showed that one in ten people worldwide believe the Mayan calendar ending marks the end of the world (Source: Ipsos) however For the Future to Find quotes Martin Luther King when describing their attitude to the project: "Even if I knew that tomorrow the world would go to pieces, I would still plant my apple tree".
"The quote by Martin Luther King sums it up really" said founder Mary Gater "It's all about having faith and hope in the future, and by leaving something for the future to find we're doing just that!"