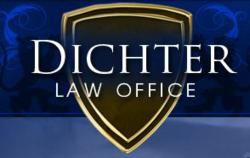 Mill Creek, WA (PRWEB) May 09, 2012
Jonathan Dichter is an attorney from the Dichter Law Office who has committed his practice to serving those who have been charged with crimes in Washington State. Because of his insurmountable success in the criminal defense field, he has recently been nominated by the nominating committee from the Washington Association of Criminal Defense Lawyers (WACDL) to serve on its Board of Governors. This is an incredibly prestigious honor considering the source.
The WACDL was formed in 1987 in order to "improve the quality and administration of justice." The Washington State branch has more than 1,000 members but being able to serve on the Board of Directors is an exclusive privilege. This group of attorneys commit themselves to providing justice for all people in order to preserve the sanctity of America's criminal justice system. Those who become members of the WACDL are professionals in the criminal defense field and serve as both private lawyers and public defenders.
The WACDL is part of a wider association of criminal defense lawyers known as the National Association of Criminal Defense Lawyers (NACDL) by which Attorney Jonathan Dichter has also been recognized. Lawyers associated with organizations such as this are considered valued and trustworthy criminal defense lawyers who are highly experienced and committed to justice. Being nominated to serve on the Board of Governors is just one of Attorney Jonathan Dichter's many accomplishments in the criminal defense field.
His firm, the Dichter Law Office, has also been named an accredited business by the Better Business Bureau and admitted to the Washington State Bar Association. The reason he was nominated to serve on the Board of Governors for the WACDL is likely because of his notable commitment to his clients. The percentage of clients he is able to help by getting their charges reduced or dismissed is well above state averages. The Dichter Law Office is committed to caring for their clients as individuals and fighting aggressively in their defense in the courtroom.
Unlike firms who overwhelm themselves with too many cases, Attorney Jonathan Dichter has always preferred to limit his cases so that he can focus in on his clients more in depth. This ensures that each client is getting the maximum care and representation it takes to achieve justice. This is what the WACDL is all about and it is for this very reason that Attorney Jonathan Dichter was given the honor of serving on its Board of Governors.
Dichter Law Firm is dedicated to helping those who have been charged with a criminal offense in Lynwood and many other areas of Washington State. Lynnwood criminal defense attorney Jonathan Dichter has made it his goal to provide the highest level of service to each individual that he takes on as a client. Personalized attention is absolutely necessary when it comes to criminal defense, because justice cannot be served when attorneys aren't completely invested in a case. This firm has been recognized by the Better Business Bureau, the National College for DUI Defense as well as the national and state associations for criminal defense attorneys. Time after time, Attorney Jonathan Dichter has been able to achieve positive case results for his clients, many of which are statistically above the state average. Past clients will testify to the quality of service that they received when working with the Dichter Law Firm. Contact the firm for more information, or visit their website at: http://dichterlawoffice.com.