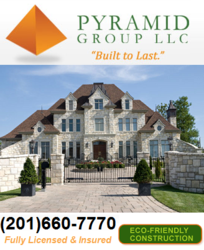 People are finding it much more economical to refurbish their current homes. Pyramid Group has innovatively focused on this sector of the construction industry.
Paramus, NJ (PRWEB) May 15, 2012
There has been a lot of talk recently about possible improvements in the housing market. With the collapse in the housing bubble in 2008, the number of homes for sale have actually dramatically increased as people are unwilling to buy them. Mortgages have become harder to finance, and few construction firms have been willing to undertake construction jobs. A recent New York Times article linked here discusses the oversupply of housing due to lack of demand. But while this may seem like a terrible thing for the industry, The Times and Jack Goldenberg of Pyramid Group Construction agree that it will actually become a great boon to house construction as the market recovers.
In general the cause of economic depression (such as the stock market crash of 1929 and the housing market crash of 2008) is overproduction and under consumption. In the latter's case, Pyramid Group believes too many homes were being produced for too few people, who were given massive loans they couldn't afford so banks and large firms could keep up with the demand. Since the collapse, building and construction have been in a slump, so companies like Pyramid Group have been working on other sectors of the industry that have not been hit quite as hard.
Jack Goldenberg, co-owner of Pyramid Group Construction, says that in the past people would buy new homes entirely rather than renovate their current homes. This was due to the oversaturation of house construction, but now that the market is under saturated people are finding it much more economical to renovate their current homes. Pyramid Group has innovatively focused on this sector of the construction industry, and has undertaken many projects that include home remodeling, home additions, and renovations.
To facilitate this creative shift Pyramid Group has been advising potential customers to remodel and renovate instead of buying new property. But with the inevitable recovery of the housing market, it may be that this will reverse again. Construction is due to rise again soon because of a number of factors. As mentioned earlier, the supply is currently low, but demand is due to be raised because of the gradual recovery of the jobs market, the graduation of the massive class of 2012 (many of whom will be looking to find jobs and move out of their parents' houses), and other factors related to the recovery of the American economy as a whole. When these factors coalesce, the economy may very well surge again, and Pyramid Group Construction urges customers to either build new property or renovate existing ones depending on their personal financial situation.