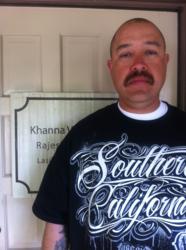 I had a quick recovery and would recommend Khanna to anyone that is interested in maintaining great vision or improving the quality of their vision.
Los Angeles, CA (PRWEB) May 14, 2012
The Wavefront Lasik procedure cured the extremely poor vision Sergio had before the procedure. Prior to wavefront Lasik Sergio could not participate in many of the activities he enjoyed. As an avid gun shooter, Sergio had a difficult time aiming and hitting the targets at the gun range as well as cleaning his gun properly due to his poor vision. Now after surgery, Sergio says that his vision has improved drastically. He feels that his new vision at the shooting range has been the most exciting improvement after his surgery. Sergio asserts that he had a quick recovery and would recommend Khanna to anyone that is interesting in maintain great vision or improving the quality of their vision.
The Wavefront Lasik surgery is an advanced technology that combines Wavefront technology with the thin flap LASIK technique to ensure a quick recovery and a great visual result. Thin flaps have been proven to be extremely safe and provide excellent visual outcomes. Wavefront technology can best correct visual aberrations and this is considered the safest and most effective LASIK vision altering procedure available today. High astigmatisms such as Sergio's can be effectively treated with wavefront Lasik eye surgery. So this procedure is a great option for patients with high astigmatisms or those that are interested in great results and a fast recovery.
Sergio came to Dr. Khanna after years of suffering from poor vision, a lazy eye, and high astigmatism. He became frustrated with his vision and his quality of life was becoming impaired because of his vision, so Sergio decided to visit Dr. Khanna and fix his vision once and for all. After preforming various tests and exams, Dr. Khanna decided that wavefront Lasik surgery was the best option for Sergio. Dr. Rajesh Khanna is a renowned Lasik surgeon and corneal specialist in the Los Angeles area. Over the years he has treated thousands of patients suffering from various eye disorders and vision aliments and has drastically improved his patients' vision as well as their quality of life. Dr. Khanna treats patients with a variety of vision needs in his Westlake Village and Beverly Hills locations.
The Khanna Institute maintains two locations in California for patient convenience. One is located at 240 S. La Cienega Blvd., #250 in Beverly Hills and the second is at 179 Auburn Court #1 in Westlake Village.
About Rajesh Khanna:
Dr. Rajesh Khanna is an internationally recognized LASIK and refractive vision care specialist, and the team ophthalmologist for the Men's USA Water Polo Team. He graduated among the top of his class in medical school and is a member of the UCLA faculty. Utilizing his skills to instruct a new generation of eye surgeons on the safest and most effective techniques and procedures, he pioneered many of today's techniques in LASIK and refractive surgery. Khanna invented a variety of instruments to aid in surgeries and speaks at a myriad of national and international professional venues each year. He participates in refractive surgery conferences and wet labs worldwide. Featured extensively in print and broadcast media, he's received prestigious awards and honors from the World Health Organization. He's a member of the American Medical Association, the prestigious American Academy of Ophthalmology and the American Society of Cataract and Refractive Surgery, and certified by the American Board of Ophthalmology.