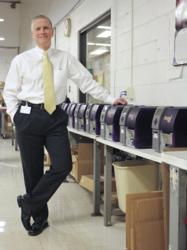 "The Pronto! barcode label printer line is a labeling system integrator's dream.
West Warwick, RI (PRWEB) May 21, 2012
QuickLabel Systems, a brand of Astro-Med, Inc. (NASDAQ: ALOT), is pleased to announce the establishment of a new automated product labeling system located at its manufacturing plant in West Warwick, RI. The new system comprises twelve of QuickLabel's own Pronto! barcode label printers and a custom front-end Graphical User Interface (GUI) that integrates with the company's Enterprise Resource Planning (ERP) system.
Marc Vadeboncoeur, IT Department Senior Programmer/Analyst, integrated a system that automatically prints product labels with data pulled from the ERP system, a process improvement over manually printing labels. He joined the Pronto! printers to the corporate network using the Pronto!'s built-in Ethernet adapter and attached to the IBM Power Systems enterprise server using standard TCP/IP networking protocol.
"The Pronto! barcode label printer line is a labeling system integrator's dream," said Vadeboncoeur. He continued, "In addition to the quick connectivity to our corporate server, each Pronto! printer comes out-of-the box with a built-in and robust web browser-based administrative interface that makes customizing each printer's hardware settings fast and painless. The Pronto! is tightly engineered from both a hardware and software perspective, with a strong emphasis on simplicity of integration, ease of operation, and ongoing durability."
Easy to Integrate Into Existing Enterprise Systems
From a software developer's perspective, Vadeboncoeur found that the Pronto! label printers were easy to integrate into existing enterprise systems. "The 'protocol' (or 'command language') that is used to direct the printer to generate labels is powerful, simple, and very easy to learn." Vadeboncoeur continued, "Integrating 12 Pronto! label printers to receive label data from our corporate ERP system was straightforward and accomplished quickly with no limits on the types of labels that we can generate."
According to QA Manager Scott Kenyon, the new product labeling system makes the product packaging process faster, more accurate, and more efficient by reducing human error and decreasing packaging staff downtime. Kenyon is pleased with how easy the system is to use and that there was essentially no training needed. "The GUI is pretty self-explanatory. The Pronto!s are easy to load and unload, and we're not spending our time 'babysitting' the printers," Kenyon said.
"The Pronto! not only meets but exceeds all expectations for simplicity, making it the ideal solution for QuickLabel Systems' own integrated in-house product labeling needs," said Vadeboncoeur.
About QuickLabel Systems and Astro-Med, Inc.
QuickLabel Systems is a leading manufacturer of digital color label printers used by manufacturers and processors who want to print their own labels in-house, as well as barcode label printers, thermal transfer ribbon, labels, and custom label printing services. QuickLabel Systems is a brand of Astro-Med, Inc., a manufacturer of high tech specialty printing systems, electronic medical instrumentation, and data acquisition systems for test and measurement. Astro-Med, Inc. (NASDAQ:ALOT) is a member of the Russell Microcap® Index. Additional information is available by visiting http://www.QuickLabel.com. Keep up with QuickLabel Systems on Twitter at http://www.Twitter.com/QuickLabel and on Facebook at http://www.Facebook.com/QuickLabel.