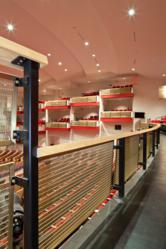 Cambridge. MD (PRWEB) May 10, 2012
New architectural mesh applications from Cambridge Architectural will be on display at booth #513 during this year's AIA Convention in Washington D.C. These systems include upgraded handrail infills which accommodate standardized attachments for glass and other types of panels, making our systems a cost-effective solution to indulge in a high-end look while meeting any budget requirements.
Cambridge Architectural is excited to be the only supplier of woven metal mesh Forced Entry Protection systems, certified by the U.S. Department of State, offering a distinguished appearance to the building. Stop by booth #513 to see Forced Entry Protection security systems which provide a personnel entry barrier while maintaining a pristine and attractive aesthetic. Various combinations of mesh and attachment systems are available to give robust protection while achieving a comfortable and welcoming design.
Manufactured in the U.S.A, Cambridge Architectural understands the needs of the A & E community, and has responded to those needs with streamlined manufacturing and pre-engineered systems that remain customizable to the architect's vision. Cambridge Architectural offers pre-engineered and custom options for any type or size project, here in the United States and internationally.
Additionally, Ann Smith, Manager Architectural Business Development, will be presenting Architectural Mesh Systems – Design Freedom and Functionality on Friday, May 18th at 10:30AM, program code EX116. All Cambridge Architectural courses are AIA certified and grant CEU credit.
Cambridge Architectural specializes in functional exterior and interior applications that impart a contemporary transformational aesthetic unlike any other material – undulating ceilings, revolutionary facades, and remarkable parking garages. No one has more experience working with project teams to assist in design realization, from a napkin sketch to actuality, than Cambridge Architectural.
From concept to installation, Cambridge Architectural is the only full-service provider that sees a design through to ribbon-cutting. As the world leader in tensioned mesh systems, Cambridge Architectural mesh gives each project a distinctive quality for both interior and exterior applications. As an active member of the USGBC, Cambridge offers a full range of sustainable metal mesh solutions, providing full system design, engineering, and installation services, taking maximum advantage of LEED points in the most challenging building environments and under the strictest budgets.