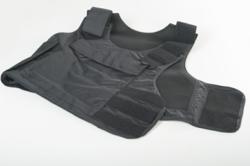 Further comfort can be achieved by incorporating Naturexx™, which wicks moisture away from the body and Odorexx™, for long lasting anti-odor freshness
Westerly, Rhode Island (PRWEB) May 10, 2012
Fasten-Air™ is a family of fabrics that stretch for comfort and function. Perfect for personal protection applications, these fabrics utilize familiar hook and loop closures. Fasten-Air™ is an innovation of Darlington Fabrics.
Steve Perry, Darlington's Senior Vice President notes, "Fasten-Air™ is a strong yet soft warp knit fabric and is available in a variety of weights based on your particular application. This unbroken loop (UBL) fabric comes in seven styles with different levels of stretch, weight and compression. We have seen that Fasten-Air™ is unique because of its stretch-comfort and function. The product achieves excellent hook attachment using bestselling brands of hook tape."
Fasten-Air™ fabrics are made with 9% to 20% spandex and blended with nylon for strength and durability. Finished weights of 6.5 oz. /square yard to 9.8 oz. /square yard add to the versatility of the Fasten-Air™ fabrics, which have been incorporated into body armor, knee pads, and gloves. The 4-way stretch loop fastener adds flexibility and adjustability, features required for a comfortable fit and high performance product.
Mindy Earleywine, also of Darlington reports that, "In addition to its durability and stretch, further comfort can be achieved by incorporating Naturexx™, which wicks moisture away from the body. Odorexx™, for long lasting anti-odor freshness also works well with this fabric."
Darlington's Fasten-Air™ fabric collection is available in custom colors. Ms. Earleywine also tells us, "Sample yardage is available in a variety of colors for prototypes and product testing." All of the fabrics are machine washable.
Fasten-Air™ received a Top Ten Award for Textile Innovations from FabrickLink in 2012.
About Darlington Fabrics
Darlington Fabrics is a division of The Moore Company, founded in 1909 and still focused on innovation. Sister divisions include The George C, Moore Company, Fulflex, Moeller Marine, Moeller Plastics, and AMER-SIL.
The Moore Company manufactures products in the United States. International manufacturing facilities complement domestic capabilities while serving regional markets around the globe.