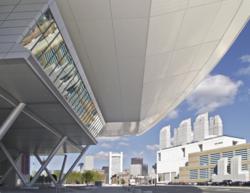 Some of the world's leading architects have selected Kingspan's Benchmark Architectural panels for stunning and creative applications.
Washington, DC (PRWEB) May 10, 2012
Riding a wave of renewed growth for its Benchmark Architectural line of highly insulating, design-driven building construction systems, global manufacturer Kingspan Insulated Panels North America has announced several new initiatives for the 2012 AIA National Convention, held May 17-19 in Washington, D.C., including new green-building advances and a second annual design competition.
The announcements, made by Kingspan director of marketing Andrea Peters, reinforce the company's increased focus on architects and innovative uses of its core product line, Benchmark Architectural. "Some of the world's leading architects have selected Benchmark for stunning and creative applications of our energy-efficient enclosure systems," says Peters. "Highly regarded designers such as Chicago's Joe Valerio and New York's Rafael Viñoly – and many more – have chosen Benchmark."
Peters adds that Benchmark has been a valuable ally for green building and net-zero-energy projects, with highly insulating panels and roofing systems with options for integral solar shading as well as building-integrated photovoltaics (BIPV) available in the same enclosure system. The Benchmark Architectural product range comprises Kingspan's Designwall Series Architectural Wall Panels – available in virtually unlimited profiles, colors, finishes and design R-values – as well as Kingspan's Flushglaze Window Systems. Filling out the product line are Column and Beam Covers, as well as integral, durable Louvers and Sun Shades.
New products and initiatives
According to Peters, the entire Benchmark line will be the focus of attention at their booth #505 during the AIA Convention, held annually by the American Institute of Architects. Yet there will be more reasons to visit with Kingspan this year, including an architectural sketching competition with iPad giveaways.

New executive leadership. Having recently joined Kingspan herself, Peters will meet with professional leaders, design architects and members of the media at the national event. Peters points out that Joe Brash, who early this year was tapped as president of Kingspan Insulated Panels North America, will also appear at the event. A third executive, Fergal Murphy, vice president of sales, will be at the Kingspan booth #505 for media interviews and meetings with architects and specifiers. Last, Kingspan's director of environment and sustainability Paul Bertram, who is also president of the Construction Specifications Institute, will be on hand to discuss new environmental inititives and the company's industry-first EPD – environmental product declaration.
New media for architectural literature. A fast adopter of new media and sustainable processes, Kingspan strives to create new, innovative ways to get product details and messaging to customers in a clear, straightforward manner. Recently, the company has introduced mobile apps, digital books and iBook brochures for use by architects. This year, Kingspan will introduce its WikiSTIK, a third-party flash drive technology that automatically updates all Kingspan literature and technical information. "This synching application is easy and convenient, so it's ideal for busy architects who need current Kingspan information," says Peters. "The WikiSTIK is the next generation of the architectural binder, and we are very pleased to be among the first on the market to offer one. The new format also supports Kingspan's sustainability efforts by minimizing the number of brochures the company prints and by reducing our carbon footprint."
A new national design competition, Legacies Are Built. Last year, Kingspan introduced a brand-new national competition for both professional architects and architecture students, called "Legacies Are Built." At the AIA Convention, Kingspan will announce the design competition's second year as well as prizes for the winning submissions of paper craft models representing buildings utilizing the Kingspan Benchmark Designwall Series as the envelope system. A winner from among the student entries will win a $5,000 scholarship towards tuition fees and an internship; the professional winner will receive a fully loaded workstation valued at $5,000, replete with a MacBook Pro, an iPad, mechanical pencils, design software and a selection of books. (For more details, visit http://www.KingspanPanels.us/Legacies.)
New ideas in design excellence and green building. Kingspan executives will also be unveiling new case studies and initiatives in sustainable design and net-zero-energy buildings, according to Peters. Examples include an energy-saving case study – the "deep retrofit" of a 192-unit multifamily building in Boston – as well as the company's Benchmark Design Manual, a.k.a. the "Black Book," with its 240 pages of design ideas, installation details and green-building information. (The Black Book is available as hardcopy and online, at KingspanBlackBook.com.)
An industry first Environmental Product Declaration (EPD). In a nationally watched development, Kingspan Insulated Panels North America became an industry leader with the industry first UL-certified Environmental Product Declaration, or EPD, for its building product lines. Similar to nutrition labels on food packaging, an EPD describes component materials and other environmental and manufacturing inputs for the insulated panels. Based on a cradle-to-grave review called a life-cycle assessment (LCA), it uses an ISO-compliant method to calculate the environmental footprint of the products at each stage of the supply chain, during product use, and at end of use.
"It's hard to overstate the importance of the LCA and our Environmental Product Declaration for architects today," says Peters. "Kingspan Insulated Panels North America is part of Kingspan Group plc, the world's largest manufacturer of insulated metal panels, and we're fully committed to reducing the impact on the environment of our business operations, products and services. That translates to the building project, on behalf of all our customers and specifiers."
Kingspan's involvement in the AIA National Convention will also be marked by its customary hospitality and communiqués, with gifts for architects visiting the company's booth #505, as well as Twitter postings and status updates on Facebook and LinkedIn for online followers. The company will host an architectural sketch competition in their booth – called "Minute Sketch" – in which architects will be invited to do a quick sketch on one of Kingspan's iPads. The designs will be displayed on monitor screens in the booth, and each day the company will pick two winners who will each receive an iPad of their own.
Energy and design drive product use
Those tokens of appreciation for architects and their clients are "the tip of the iceberg" in terms of affinity for market needs, says Joe Brash, recently named president of Kingspan Insulated Panels North America. "Adoption of our panelized, composite wall technologies has been trending upward in the United States, thanks to interest in energy efficiency and new building codes," says Brash. "Architects are driving a large portion of the growth, matching our efforts to improve energy efficiency, life-cycle performance and other sustainability features in today's new and renovated buildings."
Globally, the most significant accomplishment for Kingspan has been its fast pace of new product introductions for the Benchmark Architectural line, including highly insulating wall panels, panelized roof products, integrated photovoltaic panels and more. Most notably, Kingspan has been a leader in insulation products in Europe – expertise that helps ensure its architectural offerings of insulated panels have the latest technologies, the best R-values, and the most widely admired concepts in structural performance and life-cycle durability.
In addition to the Orlando-area headquarters and manufacturing operations, Kingspan North America currently operates four more manufacturing plants in the United States and Canada. Kingspan's product line comprises highly engineered insulated panels manufactured as a single-component enclosure system with high R-value for excellent thermal resistance and unsurpassed airtightness that increases building efficiency. The panels are also known for superior moisture control, and are suitable for both new construction and retrofit buildings.
For more about Kingspan and their products, visit http://www.kingspanpanels.us.
For more information, interviews and images, please contact
Chris Sullivan at (914) 462-2096 or chris(at)ccsullivan(dot)com.
Follow Kingspan Facebook and on Twitter: @KingspanIMP
About Kingspan Insulated Panels North America
Based in Deland, Florida, Kingspan Insulated Panels North America is a global leader in the manufacturing of insulated metal panels, providing unsurpassed service to U.S. and Canadian markets as well as export destinations. The company has five North American production locations: Deland, Fla., Modesto, Calif., Columbus, Ohio, Caledon, Ont. and Langley, B.C. Kingspan insulated panels are manufactured as a single component system with high R-value, unsurpassed airtightness and superior moisture control suitable for new and retrofit buildings. As the most energy-efficient, cost-effective building envelope solutions, insulated metal panels are at the forefront of sustainability. Kingspan insulated metal panels are a significant first step to achieving net-zero energy building and consistently contribute to U.S. Green Building Council (USGBC) Leadership in Energy and Environmental Design (LEED®) credits and overall certification. Kingspan Insulated Panels serves the architectural, commercial/industrial, cold storage and food processing markets, and is committed to delivering the most advanced building products on the market. For more information, visit http://www.KingspanPanels.us and http://www.kingspanpanels.ca.