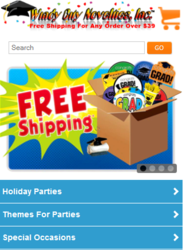 Customers will have a streamlined and efficient mobile experience on their phones.
Chicago, IL (PRWEB) May 15, 2012
Windy City Novelties, premier party supplier in the Midwest, has long maintained an online presence through their massive retail website. However, they recently launched their new optimized mobile site to add to their expanding network. The mobile version of their site will allow users browsing on mobile devices to browse the site more easily than before, making it easier to purchase party decorations and supplies on the go. This will give shoppers complete access to over 15,000 products in the Windy City Novelties inventory. The launch of the mobile site marks a huge milestone for the party supply company.
Studies by Chadwick Martin Bailey show that many consumers are now turning not only to the web but to mobile devices to do their shopping. 41% of smartphone users have made a purchase with their mobile device. The main reason for shopping on a mobile device is convenience, to be able to make a purchase from almost anywhere. eMarketer predicts that the number of smartphone uses will continue to rise. By 2016, three in five consumers will have a smart phone, and will likely use their phones to shop, or at least aid in shopping. With new features such a mobile coupons and scanning special barcodes, consumers will be smarter and more empowered.
Their new mobile site will work well on any mobile device or platform and features an easy to navigate design. Customers will have a streamlined and efficient mobile experience on their phones. All categories are right on the mobile homepage, with full product photos and descriptions just a click away. This allows for easy comparison of prices while out shopping, or quick party planning on the go. Customers can also sign up for the online newsletter or check their order status from their phone, and can rest assured that their information is safe thanks to Secure Shopping and Buyer Protection services integrated into the site.
ABOUT WINDY CITY NOVELTIES
Windy City Novelties, a party supply company founded in 1983, is known for their great selection and competitively priced items. They have an A+ rating from the Better Business Bureau and are also a NexTag 5 star Seller. From their website, windycitynovelties.com, they offer fast and friendly shipping along with great customer service. From glow sticks to balloons in every color of the rainbow, and even a vast selection of costumes at the best prices, Windy City has over 15,000 products and adds more each week.
For more information on Mobile Shopping Trends: http://www.emarketer.com