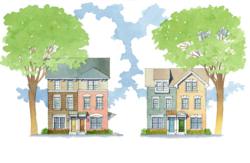 The Plaza is the foundation on which many families will build and strengthen prosperous lives. This development respects the expanded needs of housing communities to ensure that we thrive together for years to come.--Chairman Knight
Montgomery, AL (PRWEB) May 11, 2012
WHAT: City leaders, including Montgomery Mayor Todd Strange, Councilman Tracy Larkin, and John F. Knight Jr., Chairman of the Montgomery Housing Authority Board of Commissioners, will join executives from The Montgomery Housing Authority and The Michaels Organization as well as officials from the U.S. Department of Housing and Urban Development for a ceremonial groundbreaking to mark the start of a new affordable housing community on the former site of the Victor Tulane Court public housing complex, located in the heart of one of Montgomery's most important and historic downtown neighborhoods.
WHEN: Tuesday, May 15, 11:00 a.m.
WHERE: 550 Smythe Curve, Montgomery
DETAILS: The Montgomery Housing Authority and its private sector partner, The Michaels Development Company, will host a ceremonial groundbreaking ceremony for The Plaza at Centennial Hill, a new affordable housing community for families that replaces outdated and obsolete public housing on the former site of Victor Tulane Courts. The new 129-unit community will offer two- and three-bedroom units for income-eligible families earning less than 60 percent of Area Median Income (AMI).
"The Plaza at Centennial Hill will serve as a catalyst of things to come," said Evette Hester, MHA's Executive Director. "The Montgomery Housing Authority is proud to be a part of the redevelopment planned for this neighborhood. Better communities result in happier lives."
Funding for the $22.7 million development includes city and housing authority funds as well as money raised through the sale of tax-exempt bonds issued by the Alabama Housing Finance Agency and equity raised through the sale of federal Low Income Housing Tax Credits. Local partners on the project include Stallings and Sons, Inc., which is serving as the General Contractor, Architect W. Barry Robinson, and civil engineering services provided by Flower and White Engineering.
About The Montgomery Housing Authority: Since its creation in 1937, MHA has demonstrated expertise and capability in managing its public housing and assisted programs. Through partnerships with community organizations, agencies and local governments, MHA provides housing and homeownership opportunities for low and
moderate income persons and families. It takes a leadership role in providing programs and resources for residents that promote and encourage self-sufficiency, self-esteem and self-determination. The mission of MHA is to "be the leader in making available excellent, affordable housing for low and moderate-income persons through effective management and the wise stewardship of public funds."
About The Michaels Organization: Headquartered in Marlton, NJ, The Michaels Organization is a family of eight integrated but independent companies dedicated to excellence in affordable, mixed-income, military housing, and student housing. Michaels Development is the number one privately held affordable housing developer in the country and in 2010 was named the Multifamily Development Firm of the Year by the National Association of Home Builders. The Michaels Organization currently owns more than 44,000 units and manages more than 39,000 units in 32 states, the District of Columbia, and the U.S. Virgin Islands.