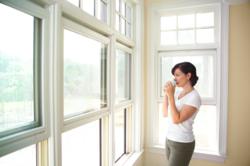 Without a way to escape, the heat can crack the window.
Waco, TX (PRWEB) May 10, 2012
The typical U.S. family spends about $1,900 a year on home utility bills, according to the U.S. Department of Energy. As temperatures rise and the air conditioner comes on, saving energy and money on utility bills becomes more and more important.
Getting new windows and window treatments is one of the most successful and overlooked ways to save money on energy bills. By replacing inefficient windows, the average homeowner can save 10 to 25 percent on heating and cooling bills.
Replacing older windows with Insulated Glass (IG) Units can increase home value in a tough housing market, in addition to decreasing energy bills. IG Units are made from two or more pieces of flat glass separated by a sealed air space, often filled with argon or another gas for insulation. If a home already has IG Units, check to make sure there is no condensation or "foggy" appearance between the panes of glass. Foggy or "milky" glass may be a sign of a leak, indicating a loss of efficiency.
Increase home efficiency by purchasing IG Units with Low-Emissivity (Low-E) glass, a type of reflective glass that resists ultraviolet light. Low-E glass prevents sunlight exposure from damaging furnishings, reduces sunlight glare and helps control indoor climate. They are the most energy efficient choice for windows.
For those homeowners on a budget who can't afford new windows, but still want to save, reflective film is a comparable choice to Low-E glass, since they also reflect some of the heat.
Window treatments also affect a house's energy efficiency. For efficiency, the choice of shades or curtains should include more than just looks, it is also a regional decision. For warm, sunny regions curtains with light-colored backing are optimal. The backing reflects light, and therefore, heat. For colder climates, shades that hang close to the window and walls provide better insulation.
Homeowners choosing more heavily insulated window treatments should be aware of the increased possibility of heat blocks. A heat block is created when a curtain or blinds trap heat between the material and the window pane. Without a way to escape, the heat can crack the window. A simple fix is to adjust the blinds about two inches above or below the window sill to allow for ventilation.
With a few changes, you can save energy, money and give a house an updated look. Don't look outside for an answer to high utility bills, look to the windows.