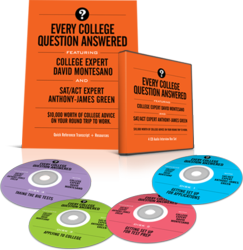 This is the first time that anyone has ever combined these perspectives, which is surprising. Our two industries are stepping on each others' toes every day of the week!
New York, NY (PRWEB) May 10, 2012
Everyone knows that the college admissions process is complicated. What they might not know is that even experts in the field have serious gaps in their knowledge, and that they rely on other experts to provide full-service options to their clients. Two of these experts, one a college admissions consultant, the other a test-prep expert, have combined their expertise in a packaged interview which they hope will clear up much of the doubt surrounding the overall admissions process.
Anthony-James Green, one of the creators of Every College Question Answered and widely considered to be the best SAT tutor in New York City, describes the pain that the new product is trying to solve: "I've been an SAT tutor my entire career. In that time, I can't even tell you how many college questions I've been asked about admissions and selection. Since I'm an integral part of the college process, my clients logically assume that I'll know the intricacies of the college admissions game. The problem is that I'm a specialist - I'm really good at one thing: improving my students' test scores. I haven't devoted my time to college research. It puts me in a weird situation, because I don't want to give my clients misleading advice, but I also don't want to leave their questions unanswered."
The problem, as the product's creators describe it, is that admissions consulting are two pieces to the same puzzle, yet people rarely know how to put them together. David Montesano, founder and president of College Match College Consulting and recognized internationally as a top college admissions consultant, had this to say about the formation of Every College Question Answered: "Unless my students are applying exclusively to "score optional" schools, they need better SAT and ACT scores. The problem is that I'm not an SAT tutor. I know that my students need better scores, but I don't know how to provide them. I'm focused on the broader aspects of college admissions strategy - I need to pick the right schools for my students, make sure they're tailoring their applications properly for each school, interview strategically, etc. - I just don't have the time to offer math advice."
In December of 2011, Anthony and David were on the phone discussing their strategy for a mutual client when it hit them: while they'd never be experts in each others' fields, they could at least answer their clients general questions if they spent some time picking each others' brains. They set up a Skype call, and four hours later, they were finally finished.
"The second we were done writing all this stuff down and talking to each other and writing all this stuff down, we realized something: we needed to turn this interview into a product. No one has ever combined the perspectives of an admissions consultant and a test prep expert before, and that honestly makes no sense; these are THE two essential elements that students need to improve their admissions chances. With that in mind, we got to work."
Two weeks later, Anthony flew to San Francisco, David's home base. They rented studio time, organized their question, and repeated their interview in a more "forward-facing" format. After months of editing, formatting, and design, they've finally launched their product and its website, which can be found at:
Every College Question Answered
"A lot of parents are dying for high-quality information on college admissions," says Montesano of the product. "They search online through forums, blogs, and other marginally connected products. They end up getting remarkably inconsistent college advice, and the people they get it from are often extremely unreliable. Of course, there's a lot of great information on the web, but there's also a lot of contradictory and unreliable advice. We made Every College Question Answered to give parents a "one-stop-shop" solution. They can listen to the audio files in our product in two round-trip drives to work, and they'll know more about the college admissions and test prep process than 99% of the parents they know."
Parents and students interested in Every College Question Answered can learn more about it by visiting: http://www.EveryCollegeQuestionAnswered.com
The product comes with four hours of audio, along with a quick-reference transcript highlighting all the key points of the interview. Purchasers also receive access to the ECQA Members Area, which contains hundreds of supplementary resources to help parents delve deeper into the college admissions and test prep process with their own children. The product is also being bundled with a free copy of Anthony-James Green's book, How to Take a Standardized Test.
Parents who wish to learn more about David Montesano can do so by visiting his website here:
http://www.CollegeMatchUs.com
Anthony-James Green is the head tutor at New York's Best SAT tutor, author of multiple books on the subject of SAT and ACT prep, creator of Vivid Vocab, and president at Test Prep Authority, a free online resource center for ACT and SAT practice problems, software downloads, and more.
Every College Question Answered is a product of Test Prep Authority, LLC.