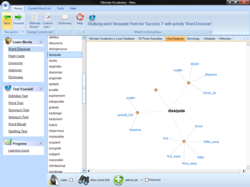 Everything is digested subconsciously, without either side knowing what is really happening
New York, NY (PRWEB) May 10, 2012
Computers have made their mark as the savior to those living in the modern world. While revolutionizing the way people work, play and learn, the makers of Ultimate Vocabulary™ today announce that they could also build the bridge to a higher income.
The announcement comes following market analysis by eReflect, the company behind the infamous spelling improvement software. Their data has showed a positive correlation between vocabulary ability and income.
Marc Slater, Managing Director of the company, explains more.
"Many third-party studies from the past show a trend that suggests those who have better vocabulary are much more likely to earn a higher income. We wanted to back this up for ourselves and did some careful analysis of our own market, with the same results ringing true for us too," he says.
Continuing, Slater makes it clear that anyone can achieve high levels of vocabulary competency just by using a computer.
"Software such as Ultimate Vocabulary™ is created solely to improve vocabulary. By putting two and two together, it becomes obvious that anyone can use these tools to improve their vocabulary levels and hopefully their income."
The company is keen to give real world examples of vocabulary in action. Their strong marketing messages point out that the subconscious always keeps a keen ear for vocabulary, and subsequently uses this gauge as a tip off to a person's success, status and level of prosperity.
"It's absolutely true" Slater adds. "People don't have to be purposely on the look or watch for someone's vocabulary. Everything is digested subconsciously, without either side knowing what is really happening."
Those looking to find out more about the Ultimate Vocabulary™ software, as well those wanting to improve their own chances in life, are urged to visit the official website at: http://www.ultimatevocabulary.com
******
About Ultimate Vocabulary™
Ultimate Vocabulary provides a proven and powerful platform, built to improve anyone's vocabulary.
The interactive self-improvement system provides more learning tools than any other program on the market, as well as more information on words.
The Ultimate Vocabulary software provides each and every user with a personal computer tutor. Providing a step-by-step guide to learning a powerful vocabulary, Ultimate Vocabulary is the learning tool everyone can benefit from.
Of course, the software is also backed by eReflect's iron-clad money back guarantee.