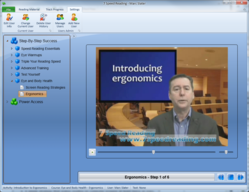 We urge everyone to at least consider trying to improve their own reading speeds
New York City, New York (PRWEB) May 11, 2012
Reading and memory are two automatic processes, often requiring little thought or conscious attention However, the creators of 7 Speed Reading™ are today making their own speedy point – that developing the ability to speed read could open the door to a photographic memory.
The company is making the announcement as they prepare to launch a new and improved version of their speed reading software – a platform that can push even the slowest of readers up to a thousand words per minute.
"Put it this way, if you read faster you stimulate the brain to be able to process more, comprehend more and ultimately remember with greater capacity and depth," explains Marc Slater, Managing Director of the creators of 7 Speed Reading™.
"Therefore, reading speeds and memory capacity are directly linked. It's a strong link too, with those improving their reading speeds almost always reporting a subsequent increase in photographic memory capabilities," he adds.
Slater and his team are assisting people with this mission around the world. Their software to help people read faster is already being used within thousands of different applications in the South Pacific, Europe and North America.
"When talking to our customers, the link between reading speeds and memory is only strengthened. Many people who were slow readers report a huge increase in their speed. At the same time, a huge chunk of these are also telling us that they have developed an almost photographic memory – and that has to be useful in life!" Slater adds.
The benefits of reading faster are also poised to stretch much farther than a photographic memory. Those who saw their reading speeds increase are also feeding back faster and more effective exam studies, quicker job promotions and ever offers of a higher salary.
"The benefits are awesome, and we urge everyone to at least consider trying to improve their own reading speeds. We're confident the results will stretch across many other areas of their lives, too," Slater concludes.
For more information, please visit the official 7 Speed Reading™ website: http://www.7speedreading.com
About 7 Speed Reading™
7 Speed Reading is the only modern speed reading software that uses the latest technology to produce superior results.
The software provides its users with a new way to master speed reading that guarantees three times the reading speed along with improved memory and comprehension.
The software is poised as the most comprehensive speed reading system anywhere. It contains seven learning strategies, fifteen software activities, video training, advanced tracking capabilities and many more exciting features.