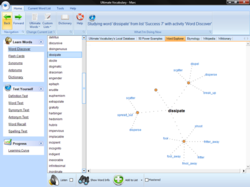 We've now got a much clearer picture of the benefits software such as ours brings.
New York City, NY (PRWEB) May 12, 2012
Ironically, many people don't believe that the benefits of a better vocabulary stretch further than the words people write or speak. However, after collecting feedback from their customers, the creators of Ultimate Vocabulary™ now believe that improved confidence could be a solid knock-on effect.
The company collected feedback from a number of customers using its market-leading vocabulary improvement software. While the results give their own confidence a boost too, it was something the team was not expecting.
"Thousands of people around the world have successfully used our software to improve their vocabulary, but we were interested in the other life benefits they had gained" explained Marc Slater, Managing Director of the company behind Ultimate Vocabulary™ .
He continued, "A huge proportion of people were extremely happy to report that their confidence had seen a healthy boost following the use of our spelling improvement software. This wasn't something we were expecting to hear, and it's a delighting result."
Marc and his team believe they know why an improved vocabulary could be linked to improved confidence.
They have concluded that a broader vocabulary allows people to always 'use the right word', while being able to formulate their words with greater ease. This lack of fumbling, stuttering and word searching results in people making their points boldly and clearly without losing the interest of others.
"While the result came as a surprise, it's very easy to link the two together. We've now got a much clearer picture of the benefits software such as ours brings – and this will help us shape future versions" Slater adds.
The Ultimate Vocabulary™ software is made to improve vocabulary. It is currently available for online purchase, with thousands of people making it a part of their daily routine each and every day.
For more information, to purchase a copy or to explore the other benefits and improved vocabulary can bring, please visit: http://www.ultimatevocabulary.com
About Ultimate Vocabulary™
Ultimate Vocabulary provides a proven and powerful platform, built to improve anyone's vocabulary.
The interactive self-improvement system provides more learning tools than any other program on the market, as well as more information on words.
The Ultimate Vocabulary software provides each and every user with a personal computer tutor. Providing a step-by-step guide to learning a powerful vocabulary, Ultimate Vocabulary is the learning tool everyone can benefit from.
Of course, the software is also backed by eReflect's iron-clad money back guarantee.