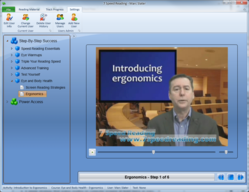 People who can remember more are always perceived as more interesting by society and particularly by the opposite sex
New York City, NY (PRWEB) May 13, 2012
It's an unlikely contender for the 'to-do' lists of singles everywhere. However, the creators of 7 Speed Reading™ today announce the results of their latest market study – that the ability to read faster can result in more interest from the opposite sex.
The claim follows a recent announcement by the company that learning to speed read can vastly improve memory retention, processing and capacity.
With people eager to know how this directly links to sex appeal, the company's Managing Director sheds some light:
"Well, people who can remember more are always perceived as more interesting by society and particularly by the opposite sex" says Marc Slater, who is at the helm of the company that developed 7 Speed Reading™.
He continues, "It allows people to have more interesting conversations, remember impressive facts and come across as refined and educated. With the direct link between reading speeds and memory, we can add one more wrung to the ladder by announcing the potential for increased attractive interest".
Taking Slater's comments into account, it appears that memory plays a key part in the process. As previously mentioned, the Company recently found a direct link between reading speeds and memory, and they are currently helping thousands of people improve their brain functions through the development of their 7 Speed Reading™ software platform.
"7 Speed Reading™ allows people to improve their reading speeds very quickly, while simultaneously enjoying all of the other benefits that this brings" Slater adds.
During the company's recent booming growth, Slater and his team are becoming more aware of the wider benefits their software can bring, beyond just reading speeds.
"We set out to create a tool that allows people to read more effectively. It's now becoming obvious that it is also being used to benefit people in many other areas of their life. We congratulate them on their successes" Slater concludes.
To find out more information and start a journey to, well, just about anywhere – please visit: http://www.7speedreading.com
About 7 Speed Reading™
7 Speed Reading is the only modern speed reading software that uses the latest technology to produce superior results.
The software provides its users with a new way to master speed reading that guarantees three times the reading speed along with improved memory and comprehension.
The software is poised as the most comprehensive speed reading system anywhere. It contains seven learning strategies, fifteen software activities, video training, advanced tracking capabilities and many more exciting features.