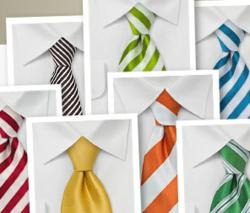 ...switching up the ties you wear each season can help you to add excitement to your appearance, and keep things from becoming humdrum.
San Francisco, CA (PRWEB) May 10, 2012
Mens-Ties.com, a well-known online retailer of men's ties and accessories, today announced a new, exclusive collection of summer ties that will be sold directly on the site. The ties range dramatically in color and style, and are meant specifically to be worn during the summer season of 2012.
"Just as with all trends in men's fashion, summer tie collections change on a yearly basis," says Mens-Ties.com founder Hendrik Pohl. "With this collection, we've taken the knowledge that we've gained about the modern state of men's fashion and have used it to create a collection of ties that we feel perfectly matches the current fashion landscape. There's nothing more important than sticking to swatches/designs that are in fashion at the moment, which is just another reason why we've worked tirelessly to create this collection."
Many of the ties in the Mens-Ties.com summer collection revolve around a specific pastel color scheme. Light baby blue, peach, light yellow, pale greens and cherry blossom pink are just a few of the colors that characterize this collection, among many other similarly cheery colors.
"In the summertime, color is everything," says Pohl. "We'd be remiss not to pay close attention to color when choosing the right ties for our collection, as pastels connote a certain feel that lends itself quite well to the mood of the season. While these ties may cause a disconnect during the fall and winter, they're absolutely ideal for spring/summer wear."
In addition to choosing this collection based upon color, Mens-Ties.com has gone to great lengths to ensure that the fabrics in use are perfect for the summer season. Cotton, for example, is one of the most commonly-used materials in the ties found in this collection. The standard size of these ties has also shrunk from 3.25-3.5 inches to 3-3.25 inches - again, another design element that reflects the current tie trend.
"Summer ties are different in every way from those meant for other seasons," says Pohl. "They're smaller, lighter, and feature completely different colors. This collection is a result of years of trial and error, an in depth look at the industry, as well as tons of feedback we had received from our customers. We think it's also important to point out that switching up the ties you wear each season can help you to add excitement to your appearance, and keep things from becoming humdrum. The more versatile your wardrobe is, the better you're likely to look."
To view the current Summer 2012 collection please visit: http://www.mens-ties.com/summer-ties/