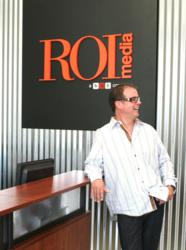 They basically brought me to 'death's door' before the stem cell transplant by ajaxing my system with chemo, and placing me on life-support.
San Diego, CA (PRWEB) May 10, 2012
Nominations are currently being accepted for the First Annual "No Limits" Award, celebrating business executives who have achieved success in the face of serious physical challenges, says ROI Media Direct, a San Diego-based direct response radio and television advertising agency, and sponsor of the "No Limits" Award Mission.
"We're looking for executives from all walks of life who refused to let physical limitations limit their professional success, and are willing to share their experience, strength and hope with others," said Patrick Lennon, founding partner and CEO at ROI Media Direct. It's a topic that Lennon understands very well, having succeeded even as his body was failing. Despite multiple brain surgeries, two bouts with cancer, a heart aneurysm, and a grueling stem cell transplant that left him legally blind, Lennon never lost sight of his dreams.
Lennon, whose father was a former prizefighter turned successful real estate developer, received his first life-threatening body blow at age six when he was diagnosed with a brain tumor. The doctors didn't offer his parents much hope, but Lennon would beat those odds only to develop spinal meningitis, a harbinger of more medical challenges to come.
By the time he was 18, Lennon had broken 12 ribs, punctured his left lung, suffered a broken pelvis, and broken his collarbone five times as a result of auto accidents. Undeterred, Lennon, who also overcame alcoholism and dyslexia as a teenager, earned a degree in telecommunications from Pepperdine University, and elected to try real estate sales right out of college.
"I was driving to an appointment one morning when a truck lost some cargo, causing another driver to swerve violently into my lane at high speed," Lennon said. "My head hit the steering wheel, but I thought I had dodged a bullet even though my car was totaled. I was wrong. My vision began getting fuzzy, so I went to a neurologist and was diagnosed with an extremely dangerous condition known as hydrocephalus or 'water on the brain.'"
Lennon was rushed into surgery where doctors implanted a shunt to drain excess fluid and relieve the pressure on his brain and optic nerve. When he awoke, he found himself totally blind. While he eventually regained about seventy percent of his vision, the shunt would malfunction, requiring additional brain surgeries. Several more shunt failures were to follow, with each procedure costing Lennon more and more vision. "One time it failed after a sky diving outing, another time on vacation in Italy of all places, where I had to have more brain surgery," he said.
Despite the scary setbacks, Lennon doggedly continued pursuing his ultimate dream of establishing his own advertising agency specializing in radio and television media buying. He started his company out of his apartment, and later scraped together enough money for a one-room office in San Diego, hired a part-time media buyer (who is still with the company) and, while being legally blind, began making cold calls and gradually growing his agency. One of those calls was to Dr. Greg Cynaumon, Ph.D., a highly successful marketing professional, author and radio and television scriptwriter.
"We met for coffee, hit it off and began discussing ways we could team up to take my small boutique agency to the next level," Lennon said. "Greg introduced me to Zeus Peleuses, a long-time radio industry sales executive, and the three of us agreed to a partnership."
While the business flourished under the new partnership, Lennon's health took another ominous turn about eight years ago. A routine CT scan revealed a heart aneurysm that could have killed him instantly. In addition, the scans revealed a large mass in his chest, which was later biopsied and diagnosed as a rapidly spreading form of late stage Hodgkin's lymphoma. Again, his chances of survival were poor. The doctors aggressively treated the cancer first, before turning their attention to the aneurysm. "Here I was married, with a newborn child, the agency on a roll, and now this?" Lennon recalled. "The only word that came to me was 'Really?'"
Despite nine months of treatment, which included six weeks of chemotherapy and three months of radiation therapy, Lennon rarely missed a day of work. When the treatments concluded, he was bald and virtually sightless, but he was cancer free, or so he thought. "My wife and I went to Hawaii to celebrate the good news. We had a wonderful time, but on the flight home I felt a nodule on the side of my neck. My worst nightmare was soon confirmed – the cancer had returned after just 30 days."
Now facing the fight of his life, Lennon underwent the three-month ordeal of preparing for a stem cell transplant in Houston at the MD Anderson Cancer Center.
"We rented an apartment nearby so my wife, Carolyn, could visit me daily at the hospital, where she often had to wear hospital booties, gloves and a smock since I was under quarantine much of the time. I don't know how I would have survived without her constant support, love and encouragement," he said. "They basically brought me to 'death's door' before the transplant by ajaxing my system with chemo, after which I was immediately placed on life-support," added Lennon, who lost 55 pounds during the procedure, which required removing his own bone marrow for transplanting later, "zeroing out" his white blood cell count and laying waste to his immune system. While the stem cell transplant worked, it left him legally blind, but more determined than ever to achieve his career dreams.
"Believe me, after what I've been through, blindness isn't so bad," Lennon said. "Thanks to advances in technology for the blind, I'm able to handle all of my duties as CEO. There are a few challenges, however, such as not seeing the expressions of people during a meeting, which sometimes means I speak when I shouldn't. I've also been known to walk into the women's restroom from time to time," he laughed. "And once I jumped into the wrong car. How did I know? Well, there was a Rottweiler sitting in the driver's seat looking at me like I was crazy."
Today, ROI Media Direct, which joined forces with Brand Affinity Technologies, Inc. in 2010, has become one of the leading agencies in the direct response industry with California offices in San Diego, Newport Beach and Santa Monica. With annual billing in excess of eight figures and growing, ROI Media Direct has such top-tier clients as LegalZoom.com, LifeLock, Regus and Blinds.com, Lennon believes ROI Media Direct has been successful by treating its clients like partners, "and spending their media dollars as if it was our own money. We work hard to become an extension of their staff."
Through multiple brain surgeries and disheartening setbacks, Lennon remains the eternal optimist and harbors no bitterness over his disability. "On the contrary, I've got an amazing wife, a beautiful daughter named Olivia, and two fantastic partners who share my vision about how an advertising agency should operate," he said. "I've been thinking for some time about things I could do to help others – from children to adults – who are experiencing disabilities and health concerns of their own, and the 'No Limits' Award is an ideal way to do just that!"
According to Lennon, the "No Limits" Award Winner will be selected from nominations submitted to the "No Limits" Award Mission Website, NoLimitsAward.org, throughout the year. The winner will be handed a check for $5,000 to be given to the Braille Institute, Lymphoma Society, or the designated charity of his or her choice. In addition, the winner's charity or cause will receive $5,000 in free national media exposure via radio and/or television public service announcements. A nationwide press release program will also be launched through PRWeb to tens of thousands of media outlets featuring the winner's story.
If you would like to share your inspiring story, know of somebody you'd like to nominate for the "No Limits" Award, or want to know the rest of Lennon's amazing story, go to NoLimitsAward.org or visit Facebook.com/NoLimitsAward.