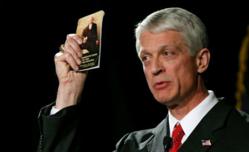 US Senate Candidate Glenn Addison Endorses Ron Paul
Houston, TX (PRWEB) May 10, 2012
Glenn Addison's campaign in the 2012 US Senate race has gained a great deal of momentum in both print and television this week on a variety of prominent political issues. Glenn Addison announced today on the Sirius/XM radio Mike Church Show that he endorses Ron Paul for President. The decision to change a policy of neutrality regarding presidential support was due to concern that the constitutional conservative message will not be effectively represented in the Texas Primary. The presumptive nomination of Mitt Romney has changed the press coverage and important issues are not getting attention. Ron Paul has been an unwavering messenger for the supremacy of individual freedom, a core principal of Constitutional Conservatism. Ron Paul is greatly admired by Glenn Addison.
Addison's campaign manager Phil Pepin pointed out that much of the press in Texas has already noticed how Glenn Addison shared so many of Ron Paul's views on several issues. In a May 8th article Dallas Morning News reporter Robert Garrett wrote, "[Glenn Addison] has been a crowd-pleaser at several GOP events because of his wit and Ron Paul-esque comments about the Federal Reserve and American "empire-building." Glenn Addison also has voiced concerns that Senate Candidate Ted Cruz is offering "fool's gold" in his attempt to court Ron Paul supporters in Texas, and is instead aligned with Goldman Sachs and other organizations. Pepin said, "When you look below the surface, Ted Cruz's actions demonstrate his empty rhetoric by only proposing token fixes. It should also concern Ron Paul supporters that Ted Cruz endorsed Rick Perry, but has yet to endorse Ron Paul."
In a previous interview with Mike Church, the host offered Mr. Addison a choice of Rand Paul's budget plan or Paul Ryan's budget plan in a question about which one he'd support if elected. Glenn Addison surprised the host with a third option. Addison said, "with all due respect to Senator Rand Paul, I would support Ron Paul's budget that cuts a trillion dollars of government spending in one year. Ron Paul's budget cuts are significantly larger than his sons' plan calls for." In addition to being endorsed by Mike Church, Glen Addison was featured on and endorsed by the Robert Bell Radio. Robert Scott Bell stated that "Glen Addison is the only true Liberty candidate in Texas for the US Senate race of 2012".
Glenn Addison for US Senate Campaign also announced recently they have completed a 'creative' television commercial that began airing on May 8th. 2012. The commercial highlights facts regarding the troubling issues with Ted Cruz and Lt Governor Davis Dewhurst's voting records, offering Glenn Addison's Constitutional Conservatism as a much needed alternative to status quo politicians.
Glen Addison was also featured in the Dallas Morning News for calling the recent actions of the Tea Party Express movement "reprehensible" after the organization invited Addison and other candidates to speak in Austin last Sunday, and then, mere hours before the event, shunned all invitees excepting Ted Cruz. The action angered many and seemingly resulted in a less-than-ideal turnout for the group's rally. Glen stated that the un-inviting of guests by the Tea Party Express "makes Chicago politics look nice". This move by the Tea Party Express has been called "completely unprofessional" by candidates.
Glenn Addison's Constitution-driven principles have led him to pledge, in the spirit of the founding fathers, to serve only one term and not become a career politician. He has also pledged to refuse the lucrative Senate pension and healthcare plans. As a small business owner in Texas for nearly three decades, Addison's plans to slash spending and taxation to promote employment could seem like a breath of fresh air to the many in Texas that are currently unemployed. Glenn also opposes the highly unpopular H.R. 3523 bill, commonly known as CISPA.
Glenn Addison has placed top in the polls conducted in the 'Tour of Texas Senatorial Forums' and in the statewide straw poll January 14th where Addison came in second of the ten candidates that participated; and in light of his perogative to reverse the current economic downturn will likely continue to gain even more support before election day on May 29th.