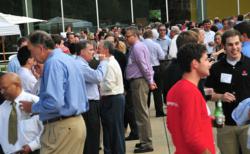 "Both the Central Ohio Agile Association and IT Martini organizations have a passion for improving the IT community," Bart Murphy, COHAA board member and conference chair said.
Columbus, Ohio (PRWEB) May 10, 2012
On May 23 and 24, 2012 information technology professionals from all over the world descend on Columbus's Arena Grand Theater at 175 Nationwide Blvd for the Path to Agility Conference - the largest Agile conference outside of San Francisco. The conference and signature IT Martini reception on May 24th at 343 Front Street Tavern and Sports Bar is expected to bring close to 1,000 IT professionals together.
Thanks to the explosive growth of Agile practices, Central Ohio's growing technology influence in the Midwest and strong partnerships with community facing organizations like IT Martini, the Central Ohio Agile Association (COHAA) has seen The Path to Agility conference more than double in size since its debut in 2010:
2010: 350 attendees, 2 keynotes, 18 sessions, 1 day
2011: 500 attendees, 2 keynotes, 18 sessions, 1 day
2012: 775 attendees, 4 keynotes, 26 sessions, 2 days, addition of The Path to Craftsmanship and Code Retreat
This year the popular conference boasts more than 40 national & international speakers hosting nearly 30 sessions. Through a creative partnership with COHAA, IT Martini featured several top speakers from The Path to Agility conference in the IT Martini Weekly newsletter and made them available for live question & answer style discussion on the web.
"We are excited to continue our partnership between COHAA and IT Martini," Bart Murphy, COHAA board member and conference chair said. "The spotlight articles IT Martini has produced highlighting The Path to Agility and Craftmanship conference speakers has been great to build buzz and allow the IT community to get to know our speakers prior to the event."
Both organizations have a long-time commitment to connecting the IT community at events, so hosting interactive online discussions with Agile thought leaders was a natural extension.
John Bishop, co-founder of IT Martini, agreed, "I've really enjoyed seeing world renowned speakers like Christopher Avery, Robert 'Uncle Bob' Martin, Jurgen Apello and Ken Schwaber connecting with the IT community leading up to the event. It's an honor to have IT Martini Weekly carry the stories of such an accomplished, outgoing group of people who are willing to engage IT professionals across a variety of formats."
At the conclusion of The Path to Agility conference on May 24th, IT Martini is hosting a reception event with one part conference attendees and one part IT community. This mix is vital to the ongoing success of both organizations, according to Murphy.
Murphy continued, "Both the Central Ohio Agile Association and IT Martini organizations have a passion for improving the IT community. Each year we use the feedback from the Conference Retrospective and reception hosted by IT Martini to plan for the next conference. This activity allows all conference attendees a chance to provide feedback, socialize with peers, meet the conference speakers and of course, win some great prizes. I can't think of a better way to close out conference."
Three-time Emmy award winning journalist Angela An of 10TV news has signed on to emcee the IT Martini reception, guiding attendees through activities such as speed networking, the 'Voice for the IT Community Choice' and a charity benefit for Buckeye Ranch. IT Martini has raised more than $30,000 for local charities since being founded in 2008.
"The Buckeye Ranch is excited to partner with IT Martini for another fundraising event," Michelle Aro, development coordinator of The Buckeye Ranch said. "Through our programs and services, The Buckeye Ranch is able to help 1,600 children and families everyday in our community. These children and families struggle with emotional, behavioral and mental health issues and we provide hope and healing to them through our treatment programs and continued support. We could not continue the level of treatment and support without the financial assistance from individuals, corporations and fundraisers like IT Martini."
Early stage companies have always been a focus of IT Martini events and IT Martini 21 is no exception. Five companies presenting at the event are Mondokio, sideNOW, LifeCubby, ZoopShop and The 5 Minute Project. Each company is vying for the coveted IT Community Choice Award which is decided by popular vote of event attendees.
IT Martini events wouldn't be what they are today without the support of the IT community and tech companies dedicated to cultivating active relationships within the community.
"Vaco Columbus is proud to sponsor this IT Martini event, our 3rd sponsorship of their events in the last nine months," Paul Bishop managing partner of Vaco said. "We trust IT Martini to be a great professional networking source in the Columbus IT community, providing our team value on many levels. We've made lasting friendships and business relationships as well as expanded brand awareness of Vaco, a key advantage in a highly competitive industry."
All ticket holders for The Path to Agility are automatically registered for the IT Martini reception, which starts at 4:00 p.m. for conference attendees and 5:30 p.m. for non-conference attendees at 343 Front Street Tavern & Sports Bar. The turn-out is expected to be nearly 1,000 IT professionals at the reception event, with tickets still on sale.
About IT Martini:
IT Martini was founded by John Bishop and Aladin Gohar, two IT Professionals who wanted a better IT Community. They spawned a conference event series and a weekly web newsletter that connects IT Communities together in a growing number of cities.
About The Path to Agility Conference:
The Path to Agility conference was developed to further COHAA's mission to promote the use of Agile practices and principles. COHAA has engaged a number of national and regional Agile thought leaders to provide session content focused on a mix of business, technical, and/or management topics. Whether you are well along the path or just starting out, this conference will help guide you in the right direction. Register now and begin to plan YOUR path to agility.
About Vaco:
Vaco partners with clients on critical projects and strategic talent acquisitions in the areas of technology, finance, accounting, and administration. It's structure and culture reflect the Latin meaning of our name - "to free oneself from work."
Vaco has grown from a de novo start in 2002 to over $170 million in revenue and 1000+ employee consultants. We have been named to Inc Magazine's Fastest Growing Companies in America for five consecutive years (2007-2011). Vaco Columbus was founded in early 2011.
MEDIA INTERVIEWS CONTACT INFO:
John Bishop | 614.432.4323 | john@itmartini.com | http://www.ITMartini.com
Interviews and photo opportunities available to media during the event.