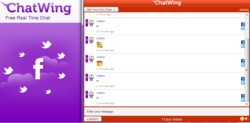 Phoenix, AZ (PRWEB) May 09, 2012
Chatwing is now taking a second major step in the online industry by empowering various consumers all over the world. This is one of the reasons why Chatwing's developers are continuously improving the shout box. In a way, consumers must be heard and they must be able to share their opinions and suggestions to the companies they like.
Chatwing empowers consumerism by providing an efficient stream of communication for people. The chat box is straightforward, and it can be understood by everyone. In just simple clicks, people can now explore thousands of imaginable topics. They can now be connected to other people under the same niche.
Bloggers also prefer Chatwing's website chat box because it offers a Facebook integration feature for all of its chatrooms. Now, people can log in using their Facebook accounts. This simple feat enables the blogger to send out Facebook invitations to visitors. A company can use this to invite more people for its Facebook page or group. This is useful whenever the company soft-launches a new product or service. On the other hand, guests and visitors can use the chat box to connect to the company. Through Chatwing, they will now have the opportunity to receive any company information and updates.
Also, installing Chatwing for any blog or website doesn't take much time. First, the user must register the blog or website's domain name. In this way, Chatwing can record the domain name and enable the user to create a widget. Second step is customization. The user can customize the height, width, color, and title of the shout box. To ensure maximum potential, users are advised to create a widget that is synchronized with the theme of their blogs. The third and last step is embedding wherein the user copies the HTML code and embeds it to a blog's custom design panel.
Users who want to discover the potential of Chatwing's website chat widget tool can go directly to its main website and try out the embedded widget. Apart from that, users can also check out Chatwing's Facebook page for useful and fresh content and their website http://www.chatwing.com
About Chatwing.com
Chatwing has developed live chat software for websites and blogs. It caters to different online communities due to its high rate of connectivity. Everyone can create a customizable live chat box feature in 1 minute or less. Users have the ability to customize the size, color, and fonts of the chat product. The ability to chat via social media accounts such as Facebook and Twitter enable Chatwing to offer a personal and unique real-time experience to all sites. Chatwing is 100% free and very easy to use.