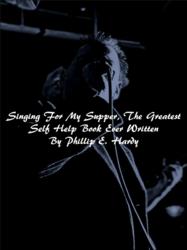 In those days, I thought beat poetry was verse you read while kicking someone's ass, thespians were women dating one another and Davy Jones Locker was a storage container.
Huntington Beach, California (PRWEB) May 11, 2012
Singing for My Supper, the Greatest Self Help Book Ever Written is now available at Amazon Kindle books. This humorous, irreverent and honest work combines storytelling, self help, socio-political and theoretical perspectives for improving life. The writer offers his often audacious insights about better living through planning, action, discipline and attitude. This book amusingly chronicles the author's dysfunctional childhood, relationships and experience as a rock musician.
Hardy, who eventually completed several business management degrees, conveys his techniques for leadership, working well with others, initiative and self realization. He describes that as a young, clueless man, he was booted out the house two weeks after high school graduation. His writing style combines a Horatio Alger meets Charles Bukowski approach, to illustrate how he used natural leadership abilities at jobs and for accomplishing goals. Hardy also communicates his message via historical examples such as the race to the South Pole; as well as better living in a Machiavellian world. One of the central themes of the book is the author's tumultuous relationships with his bi-polar father and demanding stepfather. From those experiences, Hardy stresses the importance of stimulating a child's interest, which he firmly contends was not his lot in life.
Singer for My Supper, the Greatest Self Help Book Ever Written It is part self help, part novel and part autobiography. It is also a philosophical, social-political commentary about the times in which we live. Hardy was described by one his high school instructors as "one of the finest natural historians he ever taught." The book utilizes his insights about the past, as well as his cheeky interpretations of the philosophical doctrines of Immanuel Kant, Ayn Rand and Jean Paul Sartre. In later chapters, he amusingly weaves elements of their theories into his narrative, which includes a climactic encounter with the Prince of Darkness. At the beginning of this work, Hardy cautions the reader by stating "If you think life is a spectator sport, then this book is not for you."
For those of you who prefer good, old fashioned paperbacks, Singing For My Supper is also available at Lulu Press.