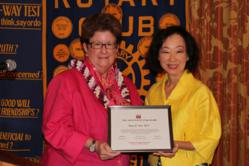 She is a living, breathing example of the principles of Civility: Respect, Restraint and Responsibility--what we call the 3 Rs.
Honolulu, HI (PRWEB) May 10, 2012
The Association of Image Consultants International (AICI) salutes May as International Civility Awareness Month for the third successive year, as designated in Chase's Calendar of Events, The Ultimate Go-To-Guide for Special Days, Weeks and Months.
Honolulu-based Nancy E. Pace, M.D. was presented this distinguished honor recently during the Rotary Club Meeting, held at the Royal Hawaiian Hotel by Penelope Paik, AICI's co-chair of the Civility Counts Project. Dr. Pace will again be officially recognized during AICI's Annual Conference held Thursday, May 17 through Sunday, May 20 at the Marriott Waikiki Resort & Spa at their Gala Awards Banquet.
"The Civility Star Award is presented annually to an individual who has demonstrated outstanding leadership; someone who has made significant contribution to the betterment of society," states Yasmin Anderson-Smith, AICI's international vice president of marketing and co-chair of the Civility Counts Project. "The Civility Star award is one of several AICI initiatives aimed at promoting the spirit of Civility and philanthropy and engaging our global members around a worthy cause. Dr. Pace exemplifies incredible leadership and service. As CEO of Solutions for Non Profit Organizations, she is at the forefront in both her career and community. She currently serves as president of the Rotary Club of Honolulu, a board member and former president of Kahi Mohala Hospital, the Boys and Girls Club, American Cancer Society, Salvation Army, just to cite a few of her accomplishments."
Pace's pursuit of excellence in the service of others is one of timeless determination and dedication. This Ohio-born Vassar graduate, who earned an M.D. from the University of Cincinnati College of Medicine and Master's of Science in Public Health from Harvard, travels annually throughout Asia, Africa and North America delivering food, clothing, education and medical supplies to the needy.
Says Penelope Paik: "How many of us have one room in our home devoted exclusively to storing supplies geared to the poorest of the poor in far-reaching corners of the world? Nancy has a passion for reaching these people, and travels at least three times a year to places like Kenya and Ethiopia. Not so long ago, she delivered aid to the Luo and Borana tribes. She is a living, breathing example of the principles of Civility: Respect, Restraint and Responsibility--what we call the 3 Rs."
In accepting her award, Dr. Pace had this story to tell: "In our family, volunteerism is Job #1. My two boys and husband still laughingly recall the 'family vacation' I planned for us to visit Thailand. We traveled solely to deliver humanitarian aid to prisoners in two Bangkok prisons, and to tribal refugees along the Burmese border."
The AICI Civility Counts Project was inspired and endorsed by Dr. P.M. Forni, the founder of the Civility Project at Johns Hopkins University and author of Choosing Civility: The Twenty-Five Rules of Considerate Conduct.
AICI, the Source for Image Professionals in Education, Experience and Excellence, is the leading and largest professional association of personal and corporate image consultants worldwide. A nonprofit organization, AICI is dedicated to advancing the level of professionalism and enhancing the recognition of image consultants. On the Web at http://www.aici.org.