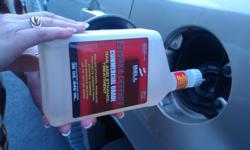 "Making the choice to use Ethanol Defense will not only benefit conscious drivers today, but it will also help to protect their vehicles and equipment for many years to come."
Longwood, FL (PRWEB) May 10, 2012
Bell Performance introduces Ethanol Defense, an alcohol-free commercial grade ethanol treatment designed to solve common ethanol problems, protect engines from ethanol damage and improve gas mileage by up to 12 percent or more.
The average driver may be innocently unaware of the severity of problems ethanol can cause to engines and the impending government sanction for an increase in ethanol concentration in fuel. The truth is that ethanol in gasoline lowers fuel economy and gas mileage and allows for increased water collection in fuel systems and storage tanks. Over time, ethanol in fuel can also dissolve rubber, plastic and resin materials, adding costly damage to equipment. With the recent EPA approval to raise the levels of ethanol in our nation's gasoline from 10 to 15 percent (known as E10 as E15), and with fewer and fewer filling stations across the US and Canada offer ethanol-free alternatives, drivers are forced to find new, reliable ways to protect the health and life of their engines. Enter: fuel additive experts Bell Performance with the new Ethanol Defense.
"We have created a product that speaks to the conscious driver looking to protect their equipment, to extend its useful lifetime of their equipment and give them better performance," says Glenn Williams, President of Bell Performance. "Making the choice to use Ethanol Defense will not only benefit these conscious drivers today, but it will also help to protect their vehicles and equipment for many years to come."
Ethanol Defense users should expect improved gas mileage and noticeably better engine performance. The combustion improvers in Ethanol Defense make more fuel available for combustion at the optimal time, while providing superior detergency to clean and remove ethanol-related deposits from the engine and fuel system. These features combines to improve engine mileage by up to 12 percent or more, while keeping the vehicle running at peak efficiency throughout its lifetime. Ethanol Defense protects these engines and fuel systems from ethanol damage with a fuel soluble lubricant to provide a barrier against ethanol solvency problems. Ethanol Defense provides all this while delivering superior water control protection that's the best on the market today. This makes Ethanol Defense the most powerful and effective treatment for ethanol available to consumers today, at a time when consumers need it the most.
Unlike other additives in the market today that use significant amounts of alcohol in an effort to combat these problems, Ethanol Defense from Bell Performance contains no alcohol.
"We saw first-hand what problems were occurring due to the government mandates for ethanol. We also heard what consumers wanted in a solution," says Williams. "That's why we developed Ethanol Defense to be the most effective treatment for solving the problems created by E10 and E15, and that's why we can say to those consumers - use it with confidence."
About Bell Performance
Scientifically Tested and Proven to Work for You—All Bell Performance products have been rigorously and scientifically tested to ensure optimum performance. Since the development of the first fuel additive formula by Robert J. Bell in 1909, Bell Performance has been developing ways to improve people's lives and make the world a better place. Today, Bell Performance stands alone with over a century of experience in providing value to customers and with the most effective, commercial-grade fuel treatments that are available for everyone, from large industries and business to soccer moms and families. All of these users trust Bell Performance because performance counts! For the latest information about Bell Performance products and technologies, visit http://www.bellperformance.com.
###