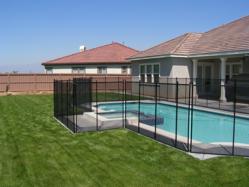 "We feel every child deserves to be protected around water no matter what income bracket they may live in".
Phoenix, AZ (PRWEB) May 21, 2012
Pool Guard of Arizona located in Phoenix, Arizona is owned and operated by Tim and Gina Maloney. They provide sales and installation of Pool Guard safety products such as a pool fence, pool net, and pool safety covers to residential home owners.
The Maloney's recently paired up with Casey's Family who provides foster care and transition services for children and families that are less fortunate. The Martinez family, consisting of two grandparents, was able to legally adopt their 4 grandchildren ages 13, 9, 2 and a newborn. The grandparents were living in a one bedroom apartment when awarded the children. Casey's Family assisted the family by helping them find an adequate house large enough for all the children. Moving is always costly and with 4 children, donations were the only way to keep this family together. Through the help of Arizona Pool Guard Inc, owners Tim and Gina Maloney and Pool Guard Manufacturing a Pool Guard pool fence was donated to comply with the state adoption code for houses in Arizona with swimming pools. Accidental drowning is the leading cause of death for children under the age of five years and more than half of all drowning incidents occurred in backyard pools or spas.
Tim and Gina were able to visit with the Martinez family in a very emotional meeting. They "felt like family" and they all felt blessed for the experience of keeping a family together. Pool Safety is a passion for the Maloney's as Tim Maloney is a Phoenix, Fire Fighter who started Arizona Pool Guard Inc. due to his experience with child drowning. Tim and Gina spend time educating the public about drowning awareness and often contribute to those that our less fortunate. "We feel every child deserves to be protected around water no matter what income bracket they may live in."
The Centers for Disease Control and Prevention (CDC) reports that fatal drowning remains the second-leading cause of unintentional injury-related death for children ages 1 to 14. Children ages 1 to 4 have the highest drowning rates. For every child who dies from drowning, it's estimated that another four receive emergency department care for nonfatal submersion injuries. More than half of submersion-injured children require higher levels of care; many sustain permanent, profound brain damage.
"Pool Guard is proud to be partnering with quality business owners such as Tim and Gina Maloney," exclaimed Mike Corkery, President, Pool Guard Manufacturing. "Pool Guard of Arizona is a great example of a successful business that gives back to its community."
About Pool Guard Manufacturing:
Based in Clearwater, Florida, Pool Guard Manufacturing is the worldwide leader in pool safety fences, pool nets, and pool covers since 1997. The manufacturing company supports a worldwide dealer network trained specifically in the skills needed for safe and secure pool barrier installations. Pool Guard can be contacted at (888)876-4005 or by visiting their web site at http://www.poolsafetyfences.com.