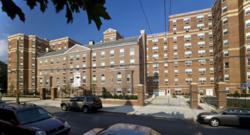 New York, NY (PRWEB) May 10, 2012
On April 26, 2012, the National Association of Local Housing Finance Agencies (NALHFA) presented Serviam Towers with the Multifamily Excellence Award at their 2012 annual conference in Austin, Texas. Developed in collaboration with Fordham-Bedford Housing Corporation (FBHC), Oaklander, Coogan & Vitto Architects, P.C. (OCV), and Galaxy General Contracting Corporation, Serviam Towers is a two-building complex part of the Serviam Gardens development which brings affordable, sustainable housing to senior citizens in New York City.
The Multifamily Excellence Award is bestowed upon projects identified as providing special needs, including senior housing and housing for the homeless with supportive services. Award winners are recognized as models for the community and deemed financially viable for both tenants and developers, while exemplifying exceptional design.
Built on the campus of The Academy of Mount St. Ursula in the Bronx, Serviam Towers is a new construction connected to a former convent on the site that was renovated and converted to provide apartments and social spaces for residents. The whole development provides 243 units of housing to low and moderate income seniors, with on-site amenities such as a media room, yoga/tai chi room, gym, game room, a 54-seat theater, lounges, and both indoor and outdoor gathering spaces.
Serviam Towers is the first City-subsidized affordable housing development completed using the Enterprise Green Communities Criteria (EGCC), bringing together a sustainability agenda that reaches beyond the building to the community that comprises it. Included in the project are landscaped grounds with productive garden beds for residents' plantings, as well as an 8,000 square foot green roof outfitted with a rainwater harvesting system. These features were recently recogized by the American Society of Landscape Architects (ASLA) NY Chapter with an Honor Award in Collaborative Design.
In addition to the green roofs, other green features throughout the development include a high performance building envelope with Energy Star appliances and light fixtures, high efficiency boiler and heating and cooling system, and non-toxic, renewable and recycled interior finishes. The development is located within a secure setting and in close proximity to public transportation and community amenities.
Partnering with Enterprise benefits both the community and residents in the development. Rising utility costs have increasingly contributed to a cost of living burden many New Yorkers experience and in the absense of a sustainable strategy to combat these costs, many City residents will continue to be affected. Those living at Serviam Gardens enjoy reduced expenditures attributed to the energy efficiency built into the project. Additionally, as part of the Greener, Greater Buildings Plan, Serviam contributes to the reduction in NYC's annual greenhouse gas emissions by 7.5%, based on 2005 City-wide emissions.
Serviam Towers construction, developed under Mayor Michael Bloomberg's New Housing Marketplace Plan (NHMP), embodies PlaNYC, the city's affordable and sustainable housing initiative to create a 'greener, greater' New York. PlaNYC strives to create a more liveable New York City by offering an increased number of sustainable and affordable neighborhoods in the presence of what is projected to be a population growth of one million by 2030.
About OCV Architects
Oaklander, Coogan & Vitto Architects, P.C. is a versatile, award-winning architectural firm serving the New York Metropolitan area for over 30 years. OCV's body of work ranges from affordable and special needs housing to high-end private residences, from gut rehabs and historic preservation to innovative new construction. Having produced over 1,000 units of residential housing, the firm regularly partners with urban housing authorities and development groups to create sustainable, attractive residences within restrictive budgets. As a member of the U.S. Green Building Council, OCV strives to bring to each design respect for a project's site, setting, history and culture, while making every effort to build responsibly and sustainably. For more on OCV please visit http://www.ocvarch.com.
For further information on this release, Serviam Gardens, or similar projects, please contact:
Mireille Moga
Oaklander, Coogan & Vitto Architects, PC
203 Lafayette Street, 5th Floor
New York, NY 10012
212-675-6470 x222
mogam(at)ocvarch(dot)com