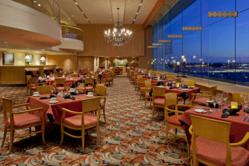 The health of our guests, planet, and the local community is at the core of every food and beverage decision that we make.
Orlando, FL (PRWEB) May 10, 2012
Hyatt Regency Orlando International Airport hotel today announced the launch of Food. Thoughtfully Sourced. Carefully Served., Hyatt's global philosophy focused on sourcing and providing healthy food and beverage options for Hyatt guests and associates and that are good for the local communities in which they reside and good for the planet. Embarking on the journey to become the first global hospitality brand to make an effort of this magnitude, this philosophy will guide Hyatt Regency Orlando International Airport's food and beverage planning from the operational level to the guest experience. With this long term strategy, Hyatt Regency Orlando International Airport will work to anticipate and satisfy the evolving preferences of its guests, ensuring that travelers have more options to fit their needs and lifestyles while staying in Orlando.
Driven by insights and in-depth research, Food. Thoughtfully Sourced. Carefully Served. is grounded in three pillars.

The first pillar is focused on healthy people, and is implemented by providing portion controlled, balanced offerings and natural ingredients prepared with nutrient preserving cooking techniques. Examples include reducing the hamburger size from 8 oz to 7 oz of meat; mandating gluten free and vegetarian options on all menus; offering Stay Fit Cuisine menu items on full-service brand menus; and providing natural bacon, organic produce and hormone free milk as menu options.
The second pillar is focused on a healthy planet by ensuring sustainable purchasing and operational practices which are intended to improve the long-term health of people and the planet. Examples include sourcing sustainable seafood; planting chef's gardens on property; introducing recycling programs that include repurposing wet waste to feed for local farmers; and using new to-go containers and packaging.
The final pillar is intended to support healthy communities by sourcing from local suppliers as well as sharing knowledge at schools and actively supporting farmers' markets and other community events. Examples include hosting farmers markets; sponsoring local culinary schools to participate in competitions; and mandating that five local ingredients be utilized on the menu.
"At Hyatt Regency Orlando International Airport, we want to meet the needs of the present generation without compromising what's best for future generations. We believe we have a responsibility to ensure that our dishes are thoughtfully sourced and carefully served," said Pat Engfer, General Manager. "This new philosophy and effort to support the health of our guests, planet, and the local community is at the core of every food and beverage decision that we make at Hyatt Regency Orlando International Airport. We are evolving the way we purchase and serve food. We believe it's what our guests deserve."
Implementation of the philosophy, which began in the U.S. in mid-2011, includes sourcing and serving meat without supplemental growth hormones or antibiotics, cage-free eggs, sustainable seafood, and fresh local ingredients that reflect the season and local flavors. Hyatt Regency Orlando International Airport is also reducing the use of ingredients with high amounts of sodium and additives and serving beverages with natural sweeteners such as agave nectar.
Food. Thoughtfully Sourced. Carefully Served. is a key component of the health and wellness pillar of Hyatt Thrive, Hyatt's global corporate responsibility platform designed to enable thriving communities.
As an outgrowth of the company's core values, Hyatt properties will continue to partner with local community groups and organize volunteer efforts and fund raising support in an effort to improve the economic future of the people and businesses in the communities where Hyatt hotels are located. From providing cooking skills courses in local schools to supporting and hosting farmers markets, Hyatt will also continue to make an effort to support the health of guests, associates and people in the local community.
To further demonstrate its dedication to Food. Thoughtfully Sourced. Carefully Served., Hyatt has joined forces with Partnership for Healthier America (PHA), which will hold Hyatt accountable for continuously improving the nutritional profile of children's food menus at full-service managed Hyatt properties across the U.S. over the next 10 years. This pledge marks the first of its kind by a hospitality company to PHA.
About Hyatt Regency Orlando International Airport
Hyatt Regency Orlando International Airport, a 445-room hotel, is located in the main terminal of the Orlando International Airport. It features upscale accommodations for business and leisure travelers, 42,000 square feet of meeting and exhibition space, two award winning restaurants, and a new StayFit@Hyatt gym. Reservations may be made by visiting http://www.orlandoairport.hyatt.com .
Forward-Looking Statements
Forward-Looking Statements in this press release, which are not historical facts, are forward-looking statements within the meaning of the Private Securities Litigation Reform Act of 1995. These statements include statements about our plans, strategies, occupancy and ADR trends, market share, the number of properties we expect to open in the future, our expected capital expenditures, depreciation and amortization expense, interest expense and effective tax rate, estimates, financial performance, prospects or future events and involve known and unknown risks that are difficult to predict. As a result, our actual results, performance or achievements may differ materially from those expressed or implied by these forward-looking statements. In some cases, you can identify forward-looking statements by the use of words such as "may," "could," "expect," "intend," "plan," "seek," "anticipate," "believe," "estimate," "predict," "potential," "continue," "likely," "will," "would" and variations of these terms and similar expressions, or the negative of these terms or similar expressions. Such forward-looking statements are necessarily based upon estimates and assumptions that, while considered reasonable by us and our management, are inherently uncertain. Factors that may cause actual results to differ materially from current expectations include, among others, general economic uncertainty in key global markets, the rate and pace of economic recovery following economic downturns; levels of spending in business and leisure segments as well as consumer confidence; declines in occupancy and average daily rate; our ability to successfully execute and implement our organizational realignment and the costs associated with such organizational realignment; loss of key personnel, including as a result of our organizational realignment; hostilities, including future terrorist attacks, or fear of hostilities that affect travel; travel-related accidents; changes in the tastes and preferences of our customers; relationships with associates and labor unions and changes in labor law; the financial condition of, and our relationships with, third-party property owners, franchisees and hospitality venture partners; if our third-party owners, franchisees or development partners are unable to access the capital necessary to fund current operations or implement our plans for growth; risk associated with potential acquisitions and dispositions and the introduction of new brand concepts; changes in the competitive environment in our industry and the markets where we operate; outcomes of legal proceedings; changes in federal, state, local or foreign tax law; foreign exchange rate fluctuations or currency restructurings; general volatility of the capital markets; our ability to access the capital markets; and other risks discussed in the Company's filings with the U.S. Securities and Exchange Commission, including our Annual Report on Form 10-K, which filings are available from the SEC. We caution you not to place undue reliance on any forward-looking statements, which are made as of the date of this press release. We undertake no obligation to update publicly any of these forward-looking statements to reflect actual results, new information or future events, changes in assumptions or changes in other factors affecting forward-looking statements, except to the extent required by applicable laws. If we update one or more forward-looking statements, no inference should be drawn that we will make additional updates with respect to those or other forward-looking statements.