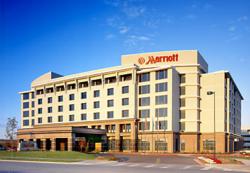 The menu for Fire + Spice will not only be a great hit with our guests but we believe it will be popular across the city of Denver, it has a lot of flair." - Bess Miller, General Manager
Denver, Colo. (PRWEB) May 14, 2012
The newly renovated Denver Airport Marriott at Gateway Park, located on 16455 E. 40th Circle in Aurora, is now home to the popular Arizona restaurant concept, Fire + Spice. This new, in-house restaurant is part of a $1.4 million renovation the hotel underwent in early 2012 with upgrades to the great room, lobby, exterior, restaurant and bar area.
"We are so excited for this new addition to our hotel," said Bess Miller, General Manager of the Denver Airport Marriott. "The menu for Fire + Spice will not only be a great hit with our guests but we believe it will be popular across the city of Denver, it has a lot of flair."
Fire + Spice serves inspired Colorado cuisine with a blend of Native American artisan recipes, Old Spain spice and the peppers and cheeses of old and new Mexico. Each dish is constructed as a piece of art, with style and intrigue worked into every presentation. Exciting new options include the Inferno Queso, Alamosa Striped Bass & tableside guacamole.
The ambiance of the restaurant provides the spice of the South with the intrigue of the Denver restaurant scene. Guests can relax and admire the art displayed both on the walls and on their plates in this contemporary yet comfortable atmosphere. Serving breakfast, lunch and dinner, seven days a week.
To learn more about this hotel and Fire + Spice restaurant, visit the Denver Airport Marriott at Gateway Park hotel website or call (303) 371-4333.
About the Denver Airport Marriott at Gateway Park:
The Denver Airport Marriott at Gateway Park is minutes from downtown Denver and DIA. The hotel offers 227 spacious rooms and 11 suites feature luxurious bedding, wireless Internet, iPod docking station, 32-inch HDTVs and Marriott's signature plug n play connectivity system. The hotel has an indoor pool, whirlpool and fitness center. The new Fire + Spice restaurant serves breakfast, lunch, dinner and room service. The lobby lounge area is perfect for refreshments in an elegant and comfortable setting. Memorable events, weddings and business conferences are perfect with 11 meeting rooms and 7,000 sq. ft. of elegant event space. To learn more about the Denver Airport Marriott at Gateway Park visit http://www.diamarriott.com, find them on Facebook.com/MarriottDIA and Twitter @MarriottDIA.
###