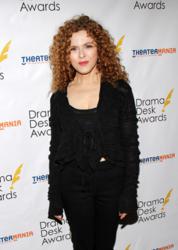 New York, NY (PRWEB) May 10, 2012
The Nominees Reception for the 57th annual Drama Desk Awards was held on Tuesday, May 8 at Oceana, an elegant mid-town restaurant specializing in seafood. Nominees in attendance included Hugh Dancy, Audra McDonald, Joely Richardson, Bernadette Peters, Linda Lavin, and Judith Light.
The awards ceremony will take place on Sunday, June 3 at 8pm at The Town Hall in Manhattan. Executive Producer Gretchen Shugart, CEO of TheaterMania.com, will present the awards ceremony with Robert R. Blume and David S. Stone in association with Renee McCurry. TheaterMania.com has engaged Joey Parnes Productions to produce and manage the event.
The Drama Desk was founded in 1949, and is the only critics organization to honor achievement in the theater with competition among Broadway, Off Broadway and Off-Off Broadway productions in the same categories.
For more up-to-the-minute theater news, show listings, video, features, reviews of Broadway Shows, and tickets visit TheaterMania.com.
About TheaterMania.com, Inc.
TheaterMania.com is the information and ticketing source for over 5,000 shows nationwide. For over ten years, TheaterMania.com has connected the theater community to the public as the leading online resource for consumers to find shows, get tickets, and save money to theater nationwide. TheaterMania.com publishes comprehensive show listings, provides Broadway ticket discounts, editorial content, and video coverage for over 40 markets and widely distributes free email newsletters and special offers to over 675,000 registered subscribers. In addition, TheaterMania.com creates online marketing programs for performing arts organizations, and provides technology to power ticketing, fundraising, and CRM through its proprietary software, OvationTix.