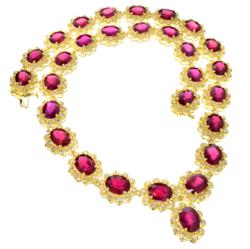 Tehachapi, CA (PRWEB) May 10, 2012
Throughout history rubies have been celebrated as one of the most prized gemstones. Rubies have long been the gemstone most closely associated with royalty and as such have become a gemstone desired for both its aesthetic popularity and monetary value . A truly spectacular ruby specimen is the 74.44CT Ruby & 5.89CT Diamond Necklace up for auction. The piece contains a total of 29 natural rubies each chevron shaped, surrounded by diamonds. Each ruby measures approximately 9 x 7mm. The necklace has an estimated retail value of $41,350 and currently high bid of $425.
Additional fine jewelry highlights include a 14kt 4.16CT Tanzanite 4.40CT Diamond Necklace, valued at $21,000-$41,000; and a number of luxury watches including a Stainless Steel Rolex Oyster Perpetual Daytona 1992 Watch. The watch is a used item in excellent working condition. Used Rolex watches of this quality are popular due mostly in part to the ability of the timepiece to retain its investment value.
A major draw in this auction is the sizable quantity of gold coins to be offered. Already creating a stir, is an 1872-CC $20 Liberty Head gold coin, also known as the 1872-CC Double Eagle – was minted in Carson City, Nevada. Numismatists agree, the Carson City mint showed greater skill in striking this particular coin than in its two earlier Double Eagle issues. The mintage for the 1872 coin was only 26,900 strikes, and each had a metal content of 90% gold, 10% copper. It has a broad estimate range of $15,750-$31,500.
Government Auction's Sunday, May 12, 2012 auction event will commence at 7:30 a.m. Pacific Time/10:30 a.m. Eastern Time. Absentee, phone and Internet live bidding through Proxibid.com will be available. For additional information on any lot in the sale, call Debbie on 661-823-1543 or e-mail info(at)governmentauction(dot)com.
View the fully illustrated catalog and sign up to bid absentee or live via the Internet at http://www.Proxibid.com. The auction will commence at 7:30 a.m. Pacific Time - 10:30 a.m. Eastern Time on Sunday, May 12.
For additional information on any lot in the sale, call Debbie on 661-823-1543 or e-mail info(at)governmentauction(dot)com.
To view this auction please click the link below
Historic Auction Event - Over 1000 items - Saturday, May 12, 7:30 AM PST
https://www.proxibid.com/asp/Catalog.asp?aid=52337
About Government Auction
Government Auction was founded as a general resource to buying assets such as jewelry , gemstones, memorabilia, collectibles, art, prints, antiques, and vehicles throughout the United States. Most people don't realize there are hundreds of thousands of assets and valuables that are seized everyday and made available through various resources. Many of these confiscated assets are passed on to us for immediate liquidation. Some examples of how we acquire requisitioned objects are from bankruptcies, IRS, estate sales, trusts, and more.
Government Auction is the largest company of its kind and the only one in the United States that works closely with these agencies to acquire literally thousands of assets and confiscated goods, such as Ruby Gemstones, Sapphire Rings, and Men's President Rolex Watches, Mercedes Benz, and Gold Coins. In most cases we acquire these treasures at a fraction of their actual retail value. Once acquired these items are liquidated through the auction site. Clients are made up of just the everyday person who wants to buy a Diamond Bracelet, Pearl Strand Necklace, Sterling Silver Pink Sapphire Earrings, Oval Cut Emerald Gemstone Parcel, Remington Bronze Reissue at an unbeatable price.
All assets that we offer are normally at a 30% - 60% savings to the client. What this means is consumers are making a good investment immediately. By purchasing assets cheaply people can make a sizeable profit if they decide to resell it later on.Government Auction is one of the most reputable jewelry and gem clearinghouse company in the U.S., with over 20 years of experience.