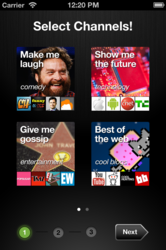 San Francisco, CA (PRWEB) May 10, 2012
Squrl is excited to announce the latest update to their popular video discovery service is now available in the Apple App Store. This new update brings our popular iPad experience to the iPhone, providing users with one central hub to discover and play videos across the iPhone, iPad, and Apple TV. With the explosion of video apps and websites Squrl ensures consumers will not miss out by bringing together the video they care about from the most popular sources in one place. The ability to playlist videos across different providers without having to queue up the next video, jump around from website to website or app to app makes for a unique mobile video experience.
"We want to make video easy for our users—from discovery to watching and sharing," says Mark Gray, CEO and co-founder of Squrl.
A streamlined start experience lets users tell Squrl what they are interested in immediately upon entry with categories like "Make me laugh," "Show me the future," "Give me gossip," "Keep me informed," and more. Squrl creates a personalized channel guide of content from a variety of providers that match the consumer's desires with playlists of video ready to watch.
Focusing on bringing the best content to consumers, Squrl has refined and expanded its content offerings. The "Fresh" section brings the most recent unwatched content to the forefront, so users can stay on top of the latest videos. There are opportunities to discover trending video across their social networks in the new "What's Hot" section or in their friends activity feed. The channel guide highlights the thousands of feeds and millions of videos Squrl supports from hundreds of providers like Youtube, Netflix, Hulu with new additions of Khan Academy, BloombergTV, Chow, DIY Network, Travel Channel, The Ellen Show and much more.
"Our last iPad update showed incredible results. Total downloads doubled and our conversion rate from download to registered user went from 35% to 70%, effectively quadrupling our active user base. What's been most exciting is the high rate of user engagement. When a user starts to watch video in Squrl, the average session length is now approximately 50 minutes. Today we are bringing this very engaging video experience from the iPad and putting into the hands of an even larger, more mobile audience on the iPhone," says Gray.
Single touch sign-in with Facebook and Twitter now lets users get to video faster and makes sharing simple. Sharing content to Facebook has been made completely frictionless with Squrl's new Timeline integration. Squrl has also simplified the user interface by adding a new press and hold menu for actions like liking, sharing, getting more information about a video, and adding a video to a watch-later queue.
"We happy to announce our Facebook Timeline integration that lets our engaged users control how they share their playlists and video they have collected with their Facebook friends. We think this will be a fantastic way to introduce Squrl to hundreds of millions of new people." said Michael Hoydich, COO and co-founder of Squrl.
Squrl is available for download in the Apple App store http://itunes.apple.com/us/app/squrl-for-ios/id398256703?mt=8. To learn more about Squrl go to http://www.squrl.com.
About Squrl
Squrl (http://www.squrl.com) is the becoming the best place to discover and watch video for the iOS devices. Squrl was launched in April 2011. The founders have extensive experience designing and developing custom video software for large media companies such as Comcast, Microsoft, NBC, and MTV. The company is based in San Francisco.