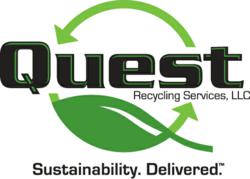 The North American Leader In Recycling Solutions
Frisco, TX (PRWEB) May 11, 2012
Quest Recycling Services, LLC is partnering with the Texas Legends and the City of Frisco Environmental Services to encourage everyone to minimize their trash and maximize their recycling.
Quest recycling's "Zero Waste Night' game was a great success, helping increase recycling by over 300%, increase game attendance by 22% and helped educate the local community on the benefits of recycling.
In addition, Quest is helping offset the emission produced during the game by planting red oaks in Frisco's Warren Park. "Quest is excited about our partnership with the Texas Legends and City of Frisco in sponsoring our Zero Waste Night," said Brian Dick, Quest Recycling CEO. "The trees planted in Warren Park will be a constant reminder of this great event and will be enjoyed for generations to come. It is great to be able to give back to the community and better our environment."
"Zero Waste Night presented by Quest Recycling was a tremendous success," said Malcolm K. Farmer, Texas Legend Senior Vice President. "While a franchise can have many different initiatives during the course of the season, there is no doubt that our fans were most engaged and activated by Zero Waste Night. The recyclables that was collected was astounding – and after seeing the effects of one game, we decided to extend the initiative to three games in order to maximize our impact. Quest was tremendous to work with on the night as they brought their expertise and relationships to the game to make it second-to-none."
About Quest Recycling LLC
Quest Recycling Services, http://www.QuestRecycling.com is one of the nation's fastest growing full service recycling companies. Quest Recycling, which is based out of Frisco, Texas, manages the recycling efforts of over 8,500 locations nationwide. Quest's customers span from commercial property management, hospitals, automotive to industrial, fleet, municipalities, hospitality and foodservice industries. Quest also partners with http://www.earth911.com, providing consumers with information about recycling and local community resources. Quest's provides nation-wide, one-stop sustainability solutions for all waste streams to both companies and communities.