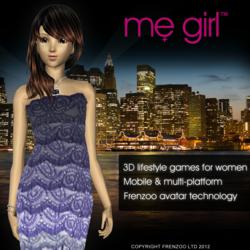 Our goal with Me Girl™ is to dressup glamour and emotional appeal to create fun, accessible gaming experiences.
Hong Kong and San Francisco, CA (PRWEB) May 10, 2012
Frenzoo (http://www.frenzoo.com), the pioneers of a new class of 3D lifestyle and fashion iOS and Android games for girls and women, today announced it has received US $1 million in new seed funding from investors based in Asia, Europe and the United States.
Investors include: Efficient Corporate, the investment vehicle of Hong Kong-based angel investor Tytus Michalski; Siemer Ventures, an early-stage, cross-border venture firm with offices in Los Angeles and Asia; K5 Ventures, a pan Europe- and Asia-based group focused on media and commerce; and Metaverse Services, a China-based leader in game content creation. They join existing investor Ambient Sound Investments, an early stage venture firm backed by the founding engineers of Skype.
In addition, joining the Frenzoo board of directors is Doug Glen, a veteran gaming and entertainment executive whose previous roles include Chief Strategy Officer of Mattel; CEO of Imagi Studios; and Director at Harmonix, the creators of Dance Central and Rock Band. Also joining Frenzoo as an advisor is fashion stylist and blogger Jasmine Webster. Founder of the popular DressMe blog, Webster has been nominated as a "Marie Claire Fashion Blogger of the Year" and selected as the "Style Judge" of Fashion One TV's soon-to-air "Correspondent Search."
Frenzoo will use the funds to accelerate the launch of its Me Girl™ brand of free games (http://www.megirl.com) that offer lifestyle and fashion entertainment for all ages. Data from mobile analytics firm Flurry shows that women make up a majority of the mobile social gaming audience. The Me Girl™ titles aim to be the first 3D games crafted specifically for this market.
"We believe there is a tremendous opportunity to combine the best of mobile gaming with the world of fashion and lifestyle," said Frenzoo CEO & Co-founder Simon Newstead. "Our goal with Me Girl™ is to dressup glamour and emotional appeal to create fun, accessible gaming experiences. With our innovative 3D platform, we can create interactive characters with natural movements and expressions that really bring the whole story to life."
"In the mid-1990s, Mattel pioneered computer games for girls," said Doug Glen, who currently serves as Entrepreneur in Residence at M-Lab, a technology incubator. "Games like Barbie Fashion Designer were hugely successful, in part because the market was so underserved. Fifteen years later, the girls' and women's market in mobile entertainment is now underserved, and Frenzoo is releasing wonderful games that have raised the bar to an exciting new level."
Added Tytus Michalski of Efficient Corporate: "I believe that Frenzoo's technology is the key to engaging with players on a more intimate level, and is truly a game changer."
About Frenzoo
Frenzoo is a startup creating a new class of 3D lifestyle and fashion games for girls and women. The company's offerings, including the popular Me Girl™ series of free fashion and lifestyle games, are based on its flexible and innovative avatar technology platform. Backed by Ambient Sound Investments, an early stage venture firm supported by the founding engineers of Skype, as well as Siemer Ventures, K5 Ventures, Metaverse Services and others, Frenzoo is based in Hong Kong, China, and San Francisco, California. For more information, visit http://www.megirl.com and http://www.frenzoo.com

Flurry Blog: "Mobile Social Gamers: The New Mass-Market Powerhouse," February, 2011
Media Contact
Matt McAllister
Fluid PR & Communications
(510) 229-9707
matt(at)fluidspeak(dot)com
Company Contact
Simon Newstead
Frenzoo
(415) 562-6889
simon(at)frenzoo(dot)com
@simonhk